Last year I needed new sandals and found these Yellow Box ones that I loved! I needed brown and black so decided to buy them both because I'm silly like that. See what they looked like new……SO cute huh!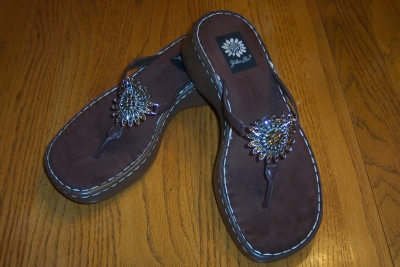 I thought they were pretty cute and I loved wearing them. I wore those brown ones a lot for about 2 months and then one day while leaving a store, the strap broke! 🙁

Ack, I was none too pleased; surely shoes should last more than 2 months and they were impossible to wear because there was no way to hold them on my foot. I begged hubby to fix them but he said there was no way.
Can you see where the metal part on the strap just snapped off? (I drew you an arrow!)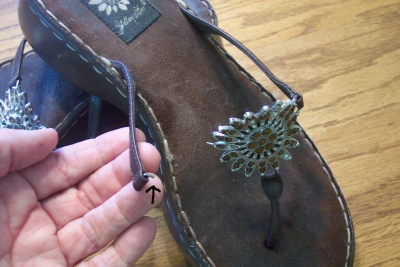 It was August so I muddled through the rest of the summer with no brown sandals. I continued wearing my black ones and have really worn them a lot this summer. Basically they're the same shoe…..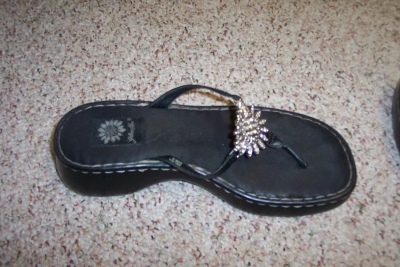 That metal piece has been fine all summer but before I went to Vegas with the girls I got to thinking that I should buy some new black sandals to take with me. I somehow kept having a nagging thought that these might break because the brown ones had broken! So I shopped around but couldn't really find any I liked or that had the right size heel or height for me. I did pack my black strappy dress sandals for night time but knew they weren't shoes I'd wear during the day. But I kept worrying that those shoes would break while I was gone. Which wasn't rational because I'd been wearing them for so long with no problems. The day we were on our way to see the Titanic exhibit one of the straps on my black ones broke! Not the metal piece but the strap toward the back where it was attached to the sole of the shoe! There was no way to walk in them, they wouldn't stay on. I put my foot down on the pavement to go barefoot and it was scorching hot! We tried to decide whether to go back to the hotel so I could change and then go to the exhibit but I hate backtracking and it would have taken at least 30 minutes. So I shuffled along to the lobby where Kat said she'd ask a bellman or someone for duck tape to hold them together! Because as my pastor says, we live in the south and we think duck tape fixes everything….but doesn't it?!! The bellman had no ducktape and looked at us funny like he wasn't sure what we were talking about. So Kathryn stapled the strap back to the heel part of the shoe and took scotch tape and wrapped it around for this oh so lovely and classy look, perfect for walking around Vegas…..(I drew you another arrow where you might can see the staples peeking through the tape)

That "repair job" made it through the exhibit and back to the hotel! But I wore my black flip flops the last day or so of the trip. I'm not sure why I didn't throw them away out there; I think I wanted to bring them home to show Don so he could feel sorry for me and commiserate with me! I've been to about 4-5 stores looking for some black sandals to finish the summer out in and there are NONE anywhere! I finally found one pair for $10 dollars that I bought but I don't like them nearly as much. At least I can have something to wear with all my black stuff which I have an abundance of. I feel like I walked the equivalent of about a mile in the brown ones and maybe 10 miles in the black; surely shoes should last longer! It makes me not want to buy expensive ones anymore. And in my family I have never been the one to be hard on shoes! I'm thinking it's the shoes though rather than me! Maybe I'm delusional.
I'm not sure why I still have the brown ones…..I emailed the place I bought them from and told them how they broke after a short time. They emailed back and said they only take stuff back after 1 month….I asked them how to get in touch with Yellow Box and they said they would have the company email me but of course I've never heard from them. I was tossing some things out of my closet yesterday and ran across them so took another picture or 2 before they go in the trash. I guess these shoes weren't that good for walking after all!
13 Responses to ""Just walk a mile in my Shoes""
Leave a Reply