The one about the M&M's……………
Daughter E had just a little string of bad luck while we were on our trip to Vegas and she's a "poor starving college grad student"! Her hair dryer broke, security confiscated her brand new 4 oz. bottle of moisturizer at the first airport….apparently she hasn't flown since last summer and I didn't tell her about the liquid thing thinking she already knew. She couldn't afford to replace it so SK was kind enough to buy her some and bring it in her checked suitcase. One day her Clinique pressed powder broke, she couldn't afford to buy more and then discovered that it was actually Kathryn's powder so now I feel like I need to replace Kat's! Her flat iron broke and she couldn't get the bank to take care of a deposit that she was needing. By then she knew she wouldn't be able to buy much on the trip but she had wanted to go to M&M's World to get a specialty bag of candy. They have this huge wall of m&m's, all in big clear containers; you get a bag and fill it up with whatever you want! It is a bit costly but loads of fun. Oooh check out this pic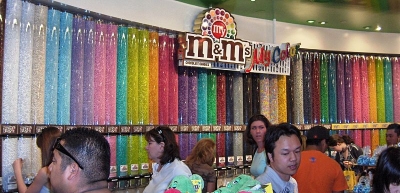 Plain, peanut, every color you can think of……we both had fun filling a bag and I think the raspberry ones were my favorite, they actually tasted like raspberries. These stores might be the only place you can get the specialty ones. She worried that day whether to get them right then because we'd be out walking around some going to an exhibit but Kat thought they wouldn't melt and they didn't. Shanna bought her kids some cute things at the store too. Here's a little blurb about M&M's World at Wikipedia……cool place but we didn't get our free treat at the end of the 3-d movie!
The m&m's were the only thing that Liz wanted to buy………..

She was going to share them with her boyfriend the following weekend when they got to visit each other. The m&m's survived the Vegas heat, the plane trip, and even back home respectively with her and me. What she didn't know though was that while she was gone her roommate discovered ants in the house. After E got home from the airport she went straight to bed only to wake up the next morning to discover ants all in her one and only bag of m&m's! She had to throw them away! I felt really bad for her, thought I might could find more to ship to her until I discovered it was like a $50 minimum order……I guess I didn't feel that bad. I rode to TN last week with hubby to work and we drove through Tuscaloosa on the way so we called E to see if she wanted to have dinner with us somewhere. On her way to meet us her car started having problems so we helped her arrange for it to go to the shop the next day.
I took my bag of m&m's with me………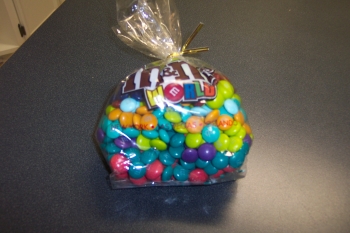 aren't they so pretty!
I left them in the car while we ate at Applebee's and yikes, they will start melting in this southern heat if you leave them in a closed vehicle too long. I put them in the cooler and they were ok. I also took along a ziplock bag and poured half of my bag into it for E……I hated that she'd had to throw hers out and wanted her to have something! Who knew that getting a bag of specialty m&m's would prove to be so difficult!
(I hope y'all got to eat them Liz)
18 Responses to ""Cover it in Chocolate and a miracle or two…""
Leave a Reply