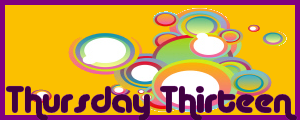 Thirteen Random Things About My Week
1. I'm sewing valances for windows in our Sunday School classroom.
2. Fed the pets of a friend who was out of town for a few days.
3. I've had a bad headache for longer than a week so….
4. Been trying to limit caffeine and sugar to see if it would help; yuck.
5. Got back to exercising some.
6. Been reading for the fall reading challenge
7. Transfered pictures from my camera and posted some here.
8. Deleted probably 500 email messages from my inbox; I'm way behind!
9. Sorted through more recipes in my files & tried some new ones.
10. Finished ballroom dancing classes, yay!
11. Spread poison all over the yard on fire ant mounds that seem to have sprung up overnight.
12. Started a new sewing project for mother in law.
13. Shredded what seemed like 999 pieces of paper & wondered why there is so much junk mail!
19 Responses to "Thursday Thirteen….#14"
Leave a Reply