A few days ago I took my car to a dealership in a neighboring town to have a recall thing fixed on it….the heated windshield washer part needed replacing. Here in the deep south it's very important to have a heated windshield washer! But I'm ready now should we need it; I also got a new inspection sticker. It was time for one but we won't talk about whether it was past time or not. As I've been known to do in the past, I went to walmart afterwards. That's only because I don't live anywhere close to a target. While wandering down the aisles I came across a long row of tulips in pots that I suppose had been there for valentines day. They were marked down to just a couple of dollars and I briefly thought about buying one for myself. But they were just sad looking for the most part; most had flopped over, looked wilted and had lost color. It looked lonely to see long rows of them!
I'm not sure my picture shows how bad I thought they looked when I first spotted them.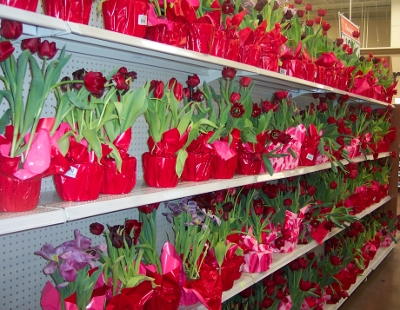 Later that same afternoon my girls drove up to surprise me. It was my birthday so they came to see me and eat with us. They literally scared me to death because I thought I was alone in my room and I came out of the closet and saw something move out of the corner of my eye! It was fun to see them for a few hours and visit with them.
Look at one of the things they brought me!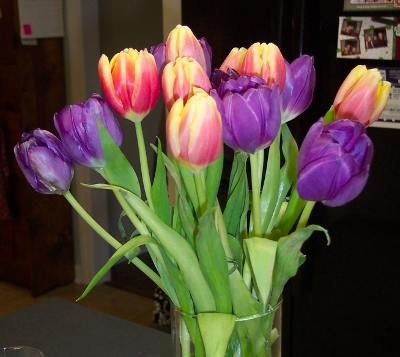 I love tulips and the colors of these are so pretty! I love these way more than the sad looking ones!
6 Responses to ""Tiptoe through the tulips""
Leave a Reply