It has been a busy week here for me….what about for you? Shopping and decorating are on the list now. Hubby got a cast on his arm/wrist and has had it x-rayed again to make sure it's still in line (it is). It has to stay on at least 3 more weeks; doing things one-handed will be old by then. I've got a bad cold/sinus thing that is making me feel miserable. We also took our youngest to get laser eye surgery on Friday. He was next in line when they came and told us the laser had hesitated on the last patient as they were making the cut on the eye, yikes! So they decided to cancel everyone else for the day and reschedule after the first. I know he was ready to have his eyes fixed but we were thankful that they were cautious! We went out of town on Sunday for a yearly family party with hubby's close friends from childhood. I'm copping out a bit today by posting a few pics!

One of the families now has a spread out in the country, a quite nice place. There is a barn down from their house where we could sit out and visit while the little kids rode horses around the corral. Katelyn seems like a old pro, I think she's done this a time or two.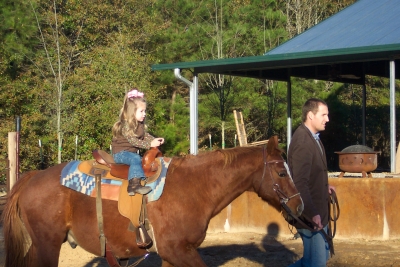 We went on a "sleigh" ride! Well, it was actually a hayride out through the woods but we sang Christmas carols so that must count, right?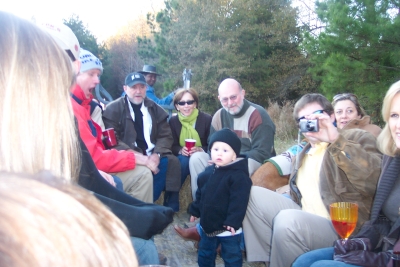 My kids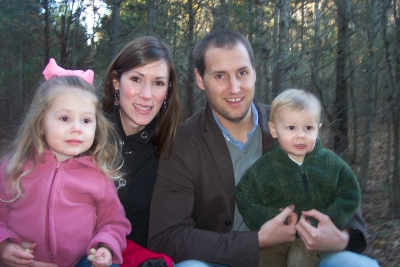 And it was fun for me to get a shot of us with 2 of the little ones! Katelyn and Sam with us.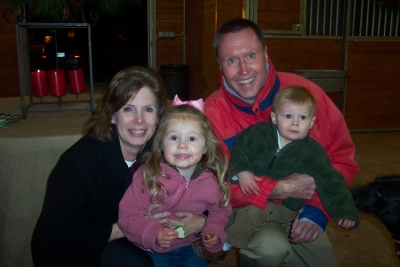 You can just see a bit of Don's cast peeking out on his left arm……I need to make sure to get a better picture to remember this by!
Katelyn is coming to stay with me a few days so I think I'll be doubly busy! I'll try to visit around as I can while trying to make a dent in my list.
12 Responses to ""Sleigh bells ring, are you listening""
Leave a Reply