It's the fourth Tuesday of the month and 5 Minutes for Books is hosting their monthly What's on Your Nightstand? carnival. Click over there to see what others are reading right now and maybe to participate yourself!
My nightstand this month….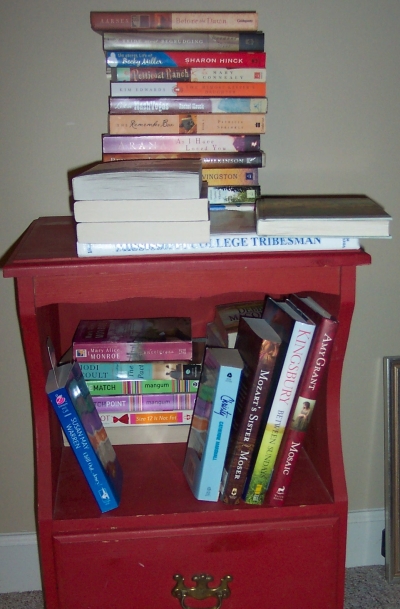 WHAT, you don't think I'm reading all those books? HA! Actually most of those books on top have already been read. Along with all the others you see they've been littering lining the wall in my room. So this month I moved another nightstand into my room. My daughter brought one home to repaint; the project hasn't been started yet and this nightstand was sitting in the laundry room unused. For now it's getting the stacks of books up off my floor. It will get moved soon and I'll need to come up with a new plan!
Books I might actually read this upcoming month………Rematch by Erynn Mangum, 2nd book in the Lauren Holbrook series; Marley and Me by John Grogan, this is the last one I need to read for the Fall into Reading Challenge. I'd also like to find a Christmas book or two at the library because I enjoy something seasonal during December; I'm not sure what I'll get because I don't have time to make it to the library before Thanksgiving! What's on your nightstand right now?
14 Responses to "What's on your nightstand"
Leave a Reply