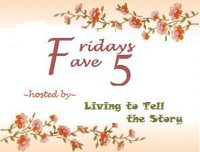 It's Friday and time to share some of your favorite things from the week. You can find details and everything else you need to know here in Susanne's post.
1. The sound of rain on my roof at night, I'm not really a fan of the rain but it's a nice sound at night!
2. Zicam, my friend during cold season. It really works wonders for me.
3. Pumpkin bread….made a loaf this week but only got one slice. My son came home to vote and took all the rest back to school with him!
4. Fall leaves…..we don't always get a lot of color here but I have 2 trees with leaves that are turning red. I love to see them when I drive up and the sun is shining on them.
5. A huge drop off in the number of political phone calls now that the election is over!
Hope you've had a good week! What's been your favorite thing that happened?
11 Responses to "Fave Five For Friday"
Leave a Reply