We have a wide framed opening between our den and kitchen/breakfast room instead of a door that closes. A few years ago I started putting up colored sticky notes on the side of it to remind myself of things; like a phone call to make or errands to run. I guess I picked this particular spot because it was a place I'm in every day and I would see it on the way out the car. Don will use it occasionally too, taping up a note or mail that he wants me to see. He tends to hang his stuff during the night because for some reason he'll wake up at the crack of midnight to pay bills or do paperwork.
I think maybe he's moved on from notes/letters to other things because this was the site that greeted me the other morning………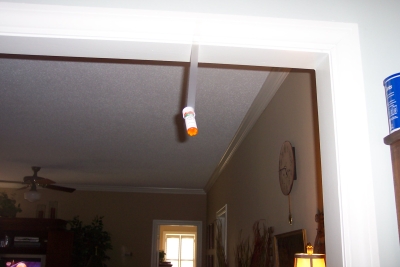 His pill bottle was taped to the top of the door frame and hung down; no note, no explanation but maybe none was needed. I guess I got the message though because I called the pharmacy to get a refill! I use the side of the door to hang my stuff but he went one better and had it dangling down.
And there's no telling what crazy thing he'll do next!
(lonely days are gone, I'm a-going home cause my baby just wrote me a letter")
7 Responses to ""Cause my baby just wrote me a letter""
Leave a Reply