I've been fortunate to have Liz around here helping me clean out closets, attics, etc. We've tossed quite a bit of stuff, carted some off to give away and still have some rooms to go yet. It's sort of random but the place I've finished first is my bathroom closet. The really crazy thing is, I'm in love with one of the containers we used to organize with. Simple little plastic storage drawers; why oh why did it take me this long to discover them!
I should have taken some pictures before I started……….

but I didn't. I do however have a picture of some of the stuff that got thrown away from said closet, which sort of gives you an idea of how much junk was there. There were way too many old towels and other assorted things and all of this went into the garbage. I have no idea why this stuff was kept for so long.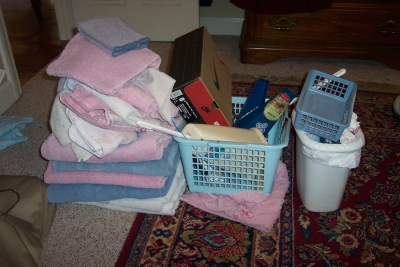 Not perfect but I do think the closet looks better without all the extra stuff. And those little drawers on the left side, I just might be in love with them! I was using some plastic baskets instead of the drawers; everything was tossed in, piled high and not working. I found multiples of some items that I previously thought were lost, not good!

Now I've got like things together….bandages, creams, first aid type stuff in one, cold/cough & headache stuff in another and so on. Much easier to find what you need and I should have been using them before now! The last thing I need to do is get a label to put on the front of the drawer.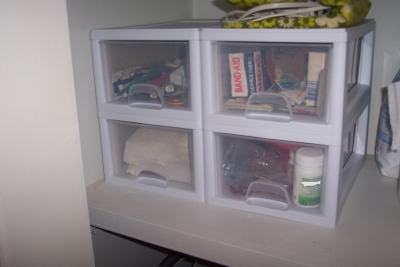 I even decided to get a different set to corral things under the sink.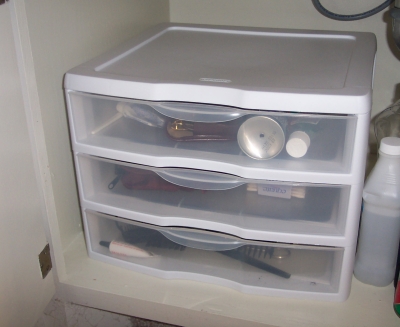 Too bad I had to be the last person on the planet to use these! It feels so much better to have this one small spot done. Maybe I can find another cabinet or bathroom to put these fun containers. Oh, some days it doesn't take much to amuse me!
14 Responses to ""Crazy little thing called love""
Leave a Reply