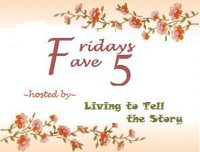 It's time for your favorites on Friday; get all the details for this fun meme in Susanne's post. Maybe you'll join in the fun too!
1. I saw The Secret Life of Bees yesterday and really enjoyed it! It's a fun thing to do with a friend.
2. Shopping online. Placed two different orders this week for things for hubby; he thinks it's brilliant but I think it's because he hates to shop. I love to get boxes in the mail even if they aren't for me!
3. A visit to the pumpkin patch, what fun! We took the little kiddies and I put pictures in this post.
4. Cooler temps…..it finally dropped from the upper 80's here and feels a bit like fall; very pleasant!
5. Crockpot applesauce…I tried the recipe Stacy posted and I loved it! I'll definitely make it again, maybe lots of times.
What have been some fun things for you this week?
15 Responses to "Fave Five For Friday"
Leave a Reply