"someone's in the kitchen, I know"
Earlier this week I asked my daughter Elizabeth if there was anything different she might want to eat for a night or two since hubby wouldn't be here for dinner. I'm not very motivated at the moment to come up with new things! She thought about it and decided to pull out a newish cookbook she has for making tapas. She spent a summer in Spain and enjoyed tapas there; little bites of food I think maybe it is, sort of like appetizers. She picked several different things to make so it would be a meal for us. It all turned out great….garlicky shrimp with yellow rice and grilled portobellos; the portobello mushrooms were supposed to have a hazelnut gremolata drizzled over the top. The topping didn't happen because we live in the middle of nowhere and they don't sell hazelnuts in the middle of nowhere apparently!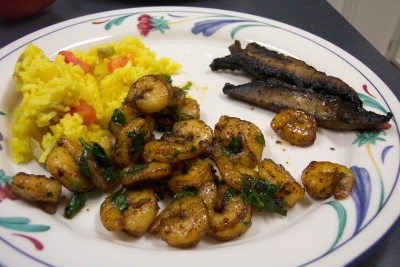 I did some chopping for her while she made the shrimp and rice; the mushrooms were quick on the grill. Pretty colorful and it was all really yummy. I think the rice was supposed to be put in tortillas, then rolled up and cut but neither one of us wanted it like. I'm glad we did shrimp while hubby was gone; he's not as fond of it as we are.
I hope Liz will try a few more of her recipes while she's still at my house!
10 Responses to ""Someone's in the kitchen with Dinah..""
Leave a Reply