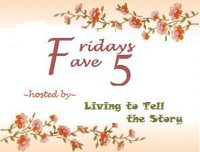 Friday again and time to list some favorite things from the week…….check out Susanne's post; she has more explanations there and a mr. linky if you want to play along! I'm tempted at times to change mine to four things if my week has been uneventful so I might be stretching it with some of these. Some of my favorite things this week:
1. Several cool mornings this week…it was so nice and actually made me think that fall could come to us soon in the deep south! Today I could tell that it's warming back up and we still have some hot days ahead of us yet but the cooler mornings were fun.
2. A spicy smelling candle that Liz gave me. It's the first time in a while I've had a candle burning and it smells all fall and harvesty.
3. Walking every day this week. Well, I don't actually love the walking much at all but I do like the fact that it makes me feel better afterwards! I think I've slept better plus it gets me out of the house and into the fresh air.
4. Blueberry banana muffins I made one morning; they tasted good and we even had some left for today!
5. Egg in a hole, or egg in toast………I used to make these for the kids when they were little! I made them one morning before hubby left and Liz was going off to school to sub, we ate them all up! Or maybe it was because I never cook eggs anymore and we've just forgotten how good they are. I did these in the skillet…cut a hole in the bread, butter in skillet, put bread in first and after it's cooked a bit break the egg into the hole. Cook and then carefully flip to the other side, just like cooking eggs but with bread surrounding it! I put the cut out pieces in the skillet too. It was probably more fun for me to make than it was for the family to eat! Forgot to take pictures but you can find just about anything online nowadays….


What's been one of your favorite things this week?
12 Responses to "Fave Five for Friday"
Leave a Reply