I wasn't familiar with the line from a country song I'm using today but sorta liked it! Stacy will probably know it since it's more in one of her genres of music. A list is what I need today…..
1. Need to put sheets on the beds upstairs so Katelyn will have someplace to sleep. Kathryn has to do some recruiting for work at nights this week so I'll keep Katelyn 2 days. 🙂
2. Will need "kid" food from the store! Milk that's not skim plus m&m's or something she can get as a prize for going to the potty, oh the joys of potty training!
3. The washer appears to be fixed finally so I need to catch up on laundry. The washer, oh my what an ordeal, a post in itself!
4. I had a bad bout with my mouth/jaw and tmj last week but it's so much better now. I asked the dentist about it a few months ago and he said that's what I probably have but not bad enough to do anything…it usually only flares up once or twice a year but if I knew some way to keep it from happening again, I'd be good with that!
4. We don't need another hurricane in our gulf coast states but it looks like Ike might be tracking for somewhere there again. Ugh.
5. I finally ordered another slow cooker, broke the lid a couple of months ago to the one I use most often. It came in today but I'm a little conflicted about what to do. It said white when I ordered it, but this one is sort of silver or grayish in color; I think I can live with that. But the lid has a small dent in the metal frame around the inside! I wasn't happy to see that but it does however appear to fit onto the pot ok. I'm frustrated to pay 40 bucks for something and have it come in with a dent; not sure whether trying to send it back will accomplish anything or be worth it in the long run. Guess I'll show hubby tonight and ask his opinion. Not sure you can see it or it shows up good but here's the dent (maybe too small to worry over?)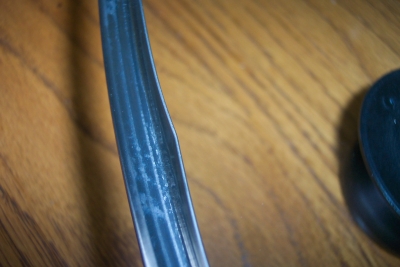 6. I was glad the sun was out today so that I could get out to walk! It's a little hot here but it felt good to walk.
What's on your list today?
"go for a walk, say a little prayer
take a deep breath of mountain air"
7 Responses to ""Under an old brass paperweight is my list of things to do today""
Leave a Reply