Be sure to check out 5 minutes for books for some good book reviews and today they are starting a new monthly carnival, What's on your nightstand? My nightstand usually does have books on it because I tend to read at night a lot, a very guilty pleasure for me! Just this weekend I finished a book that I've already returned so I don't have it for my picture……..Mistaken Identity. It's a true story about the 2 college girls that were in a horrible van accident, one was killed and the other lived but their identity was switched at the accident site. Five weeks later as a survivor was coming out of a coma the Van Ryn family realized that it wasn't their daughter after all, which I can't imagine going through. I knew some of the story from when it happened a couple of years ago but was fascinated to read about it from the perspective of both families and to see what a strong christian faith each of them have. I really enjoyed it and it might be a good one to check out sometime.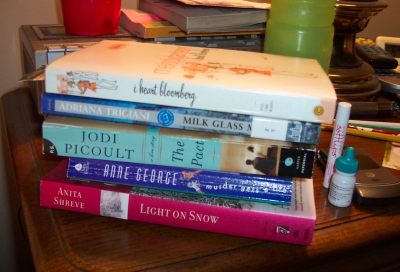 Right now I'm reading that book on top, I Heart Bloomberg by Melody Carlson. I picked it up at the church library and it seems to be a light fun read. I got Milk Glass Moon from the town library so I could continue to read about Ave Maria in the Big Stone Gap books! The other 3 books came from my sister Stacy, who is the next best thing to a library! She loans me so many books and I don't ever have as many to swap with her but it's nice to borrow back and forth. The Pact by Jodi Picoult, Light on Snow by Anita Shreve….I've not read anything by her so I don't know much about it. I finished Plain Truth by Picoult recently and loved it, hope this book will be as good. The small one is one of the Southern Sisters series of books by Anne George, Murder Gets a Life. The main characters are 60 something year old sisters living in Birmingham who happen to stumble upon murders; they are light and usually quite funny.
That's what I have on my nightstand for now, what about you? If you post at your blog let me know so I can come see, or tell me what you're enjoying at the moment!
14 Responses to "What's on your nightstand?"
Leave a Reply