I got home from North Carolina late Tuesday night and was pretty much good for nothing on Wednesday. One way is roughly 655 miles, which makes for a loooong drive by myself! This time I made a stop in Atlanta to meet Lynne, another blogger. What fun! We had lunch and visited for a while and I enjoyed talking with her so much. She was sweet to come meet me along the road! It was only after Atlanta that I got bored and really tired. I listened to Atlanta traffic and weather for about 30 minutes straight while navigating the roads there. Then I flipped through all 247 xm radio stations at least once but mostly listened to the Blend, a country station some (hence the title!) and one or 2 others……..you can hear a lot of the same songs on different channels! I tend to munch and eat when I'm bored too so that's not a good thing. The last couple of hours was hard, there seemed to be nothing left to do! Next time I do a road trip I need to make sure to get to the library ahead of time to check out some books on tape.
I had wanted to stop when I got into Mississippi to visit with Jenny but it was dinnertime, she was keeping Mandalyn's kids and couldn't get away then. I hope to catch them another time.
I've caught up with Idol, a netflix movie and a few other tivo'd things. I judged one bible drill competition last night, got one more tonight. I'm mostly caught up on blog reading (you girls sure write a lot!). And I should probably get all the sewing paraphernalia out of my car before it starts raining again!
Here's a picture from my lunch with Lynne on Tuesday.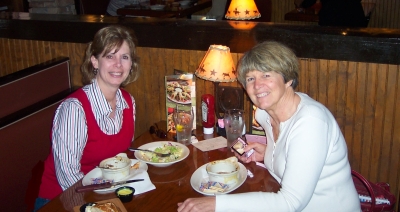 "It's a long trip alone over sand and stone"
12 Responses to ""Long Trip Alone""
Leave a Reply