We gave a dinner party over the weekend for a friend getting married soon and a marriage blessing was part of it as well. It's a time we set aside to give a charge to the couple to remain faithful and committed to each other and to pray for them and ask God's blessing on their upcoming marriage. Lots of times when we've had these parties my hubby has been in charge of doing the blessing, he did this time as well. And in his talk he used a song lyric! How did he know I'd like that! He didn't because he barely knows I have a blog and never reads it. But he used the one I'm using today and told them that they would encounter trouble in marriage! Haven't we all. But that their job from now on would be to fall in love with each other…."the next time I fall in love it will be with you".
Click through if you want to see some of the pictures.

It takes a little bit of work to do these dinner parties! We're blessed that one in our group has a real talent for decorating, she loves to think up new ideas to use and she did a great job with the tables. Loved the dining room table and those silver balls she hung! This shot is without the food though, just imagine it has lasagna, salad and bread there!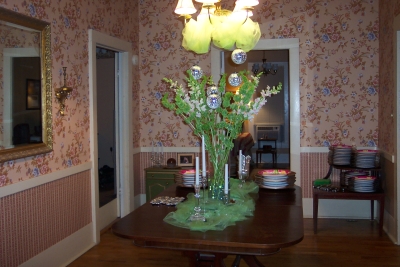 I should have gotten closer to that above one so you could see how pretty the flowers were. I did get close to this one, probably because chocolate candy was involved! I was very good and waited until we were done, since it was part of the decorations and all. 🙂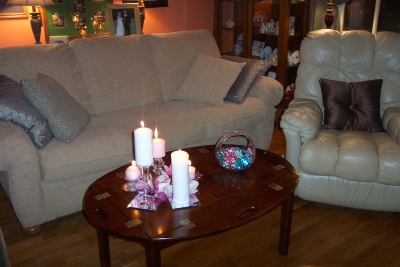 Since it was a blessing, we did have a prayer time for the bride & groom. I probably shouldn't have taken this one but I waited until someone said amen and then snapped quickly!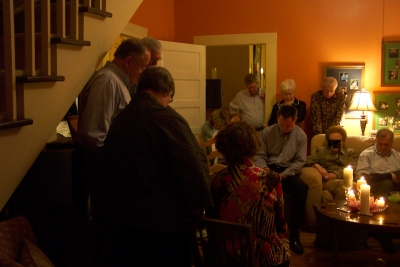 All the girl hosts and the bride, the tall blond in the middle.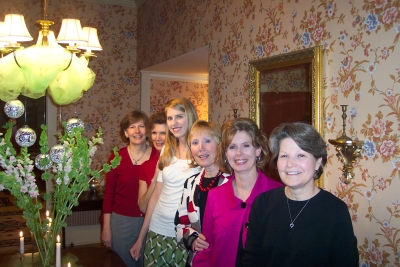 Stacy wanted to see my new jacket, not sure you can tell anything from the above one Stace but here's one more of me with Don!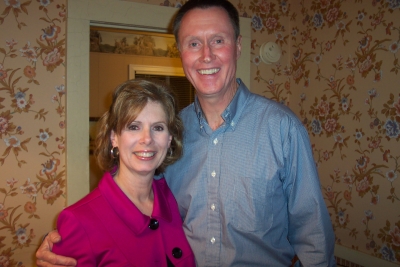 My part this time was to make salad………salad for almost 50 people! Yikes, that was harder to judge than I thought it would be and I felt like I chopped lettuce for days. We actually had leftovers of everything except dessert; a guy in our church made bread pudding for us but every bit of it was eaten! There was enough of the lasagna, salad and bread for some of us to eat it again for Sunday lunch.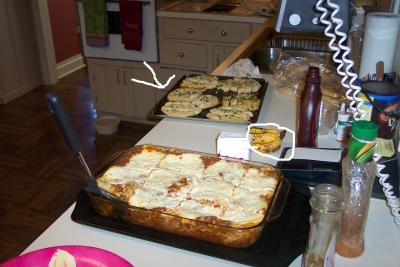 I drew an arrow to the bread but I don't think you can see it very good. It was probably the biggest hit we had this time! The recipe is in the new southern living and if I remember correctly it's on page 13….here's the link, Parmesan Parsley Flatbread. Oh shoot there's no picture on their page but if you have the magazine go look at it, they look really cute and tasted wonderful! We got more comments on those than anything else I think. I also circled something in that picture too…..I've never seen these little miniature bananas before! I was told you can get them at walm*rt but I'm not convinced my store has them…..they were perfect for ice cream sundaes that we had for lunch the next day!
(stay tuned late for cute kid pictures!)
p.s. this party was at a friend's house, not mine this time.
"next time I fall in love I'll know better what to do.
the next time I fall in love it'll be with you."
9 Responses to ""Next time I fall in love""
Leave a Reply