Last week we went to a business meeting in Florida that hubby attends; it's always in different spots but this year it was held in Marco Island, Florida. It's south of Naples and they told us it was the largest of the ten thousand islands, I didn't know about all these islands! We spent Sunday traveling and when we drove from the airport to the hotel it was extremely foggy. I went shopping most of the next day with a group of ladies and didn't really buy anything but lunch & ice cream for a snack. My sister in law and I tried to sit out by the pool to read the next day…………

It was really pretty and not sure you can tell, but there's hardly any people out. It was very breezy and cool, we had on jeans and shirts and covered up with beach towels!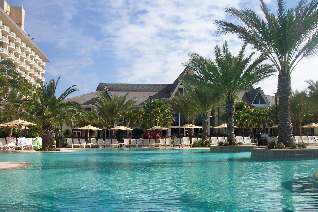 We walked on the beach several times and picked up loads of shells……I don't think I've ever seen as many on any other beach I've ever visited. I probably should have done a close up but there were lots of spots where the shells were 3-4 inches deep.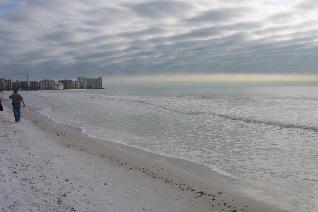 On our last afternoon Don and I went on a bus over to Everglades Park, along with his brother and family. I really enjoyed seeing all of it and we had such fun on the airboat ride!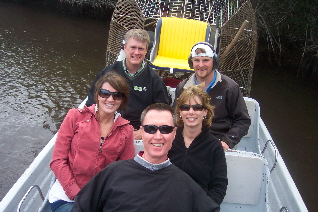 As soon as we got on the boat though, these pelicans would come and land on the edge at the front and start making their way toward the back. I did not like that at all! The captain of the boat would eventually throw fish out to them but I think he likes to mess with the customers and wait as long as he can, hoping to get a rise out of everyone. He did say they would peck at you and I think one had bitten him. I was glad when we took off that they didn't stay on the boat too long. They've got a good thing waiting by the dock for that fish!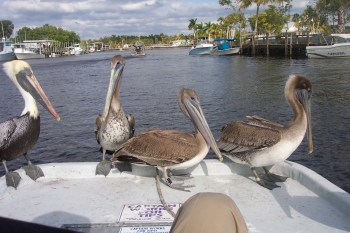 He drove us through some of the swampy looking areas and down these long waterways with mangrove trees growing on each side; very neat looking and the boys loved it when he drove fast.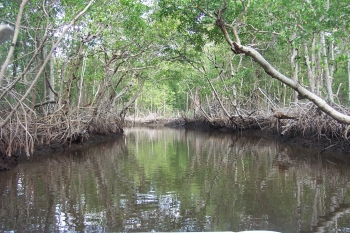 When we were done they had alligators for us to hold and take pictures with! It wasn't on my list to do, I took all the pics and then got roped into doing it too……it was icky I thought! Those were my nieces looking on. I think I can say I've done this and don't ever have a desire to do it again!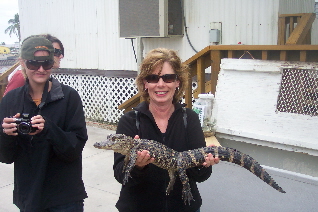 The bus driver drove us by a river or waterway on the way back, a place where they usually spot lots of gators and just what I wanted to see again. And oh my gosh, these were way too big to suit me. After we took pictures, a big guy slid off the bank across from us and started sliding through the water toward us! I said something like maybe we all needed to get back on the bus, the driver said he wouldn't come over to us….I didn't want to find out but sure enough he turned and went the other way.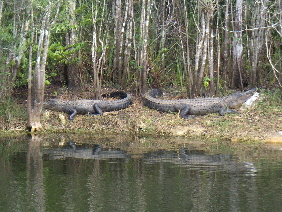 Don and me at dinner one night…..we had some good seafood but I think Don ate steak or fillet every night! We ate more meat there than we usually eat in 2 months!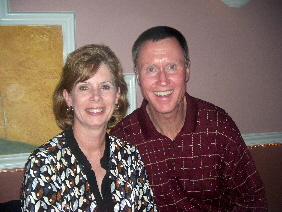 For some reason I had not looked forward to going on the trip but I ended up having a really good time! I'm glad we got to get away and enjoy the sun, even though the weather was a bit cool. It does beat the 20's and 30's we've had since I've been home!
16 Responses to ""Off the Florida Keys, there's a place called….""
Leave a Reply