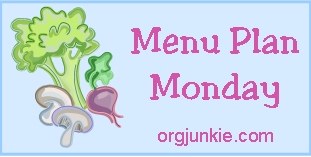 This is the first menu I've done since before Christmas I think, and it feels good to actually have a plan this week! Maybe this will help me get back into a routine, something I've been having a hard time with this month.
Thanks to Laura for hosting this each week. Check out her place for the other participants.
Monday…….Vegetarian Lasagna, corn on the cob and maybe salad
Tuesday…..Chicken, sweet potatoes, black eye peas
Wednesday….church supper
Thursday……Baked fish, wild rice, veggie
Friday……committee meeting, probably at my house for dinner! I hope my contribution will be rolls
If I need to, I might make cheeseburger soup over the weekend.
Hope y'all have a great Monday!
9 Responses to "Menu Plan Monday"
Leave a Reply