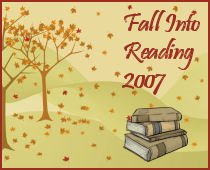 I'm a bit late doing my wrap up post for the reading challenge I was doing this fall! Katrina hosted the challenge and the other wrap up posts and info are here. There were lots of participants this time. I really enjoy being a part of this one; this time I had what I thought was a short enough list that I could finish all my books. Haven't quite finished reading the last book yet! Hopefully I'll get it done this week.
I did get through with the non-fiction book I included, Beyond Jabez…..we were reading that one for church for Wednesday nights. Non-fiction isn't something I read a lot of so I was glad that I finished it. The fiction books I had on my list are:
The Prodigal by Beverly Lewis…..part of the Abrams' Daughters series and I enjoy reading about the Amish.
Big Stone Gap by Adriana Trigiani….first book I've read by Trigiani and I was pleasantly surprised that I liked this book so much! I think I'll get the follow up to this one for future reading
My Sister's Keeper by Jodi Picoult….first Picoult book I've read too! This book grabbed me almost from the start & it held my interest well, but the subject matter was hard. Several things in it surprised me, especially toward the end. It took me several days to sort of "get over" this book and begin something else. A couple of people suggested I read Plain Truth by her so I think that's one I might try.
Dear John by Nicholas Sparks…..I've read quite a few of his and mostly enjoy them. This one was pretty good and when I first started it, I envisioned it going one way and it went a slightly different direction than what I first thought.
The Memory Keeper's Daughter by Kim Edwards……I enjoyed this book too, another that was a bit hard to read. I didn't quite relate to part of it, like giving away a baby, but it's fiction and I've never been in that situation before. It didn't end like I thought it might and was a bit sad.
Shepherd's Abiding by Jan Karon…..I just finished this one recently and I love the Father Tim books! A perfect one for this time of year.
Peace Like a River by Leif Enger…..this is the one I haven't finished yet. Started it recently and I'm sort of having trouble getting into it.
Just shy of reaching my goal but not too bad with everything else going on!
5 Responses to "Fall Into Reading Challenge Wrapup"
Leave a Reply