It's been sort of a crazy week around here; lots of last minute things to do and some shopping to take care of! I still have a few things left to clean up around here and get out of the way. I might be even busier this upcoming week, whew. We have a neighbor who's been really helpful to us this year….we've called them on many occasions at the last minute to feed the cat, pick up mail, etc. So I wanted to do something for them for Christmas. I found the cutest plate when I was shopping and should have taken a picture of it before I put food on it but alas, my mind just doesn't always work right. Trust me, really cute and with a fun snowman on it. I decided to make them some Oreo truffles. My daughter told me how to do them after bringing them to my house last year.

They're really pretty easy to do, they just take a little bit of time. Lots of you have probably already made them before! I still want to make some for us to have the next few days so I might work on that later today or tomorrow.
Oreo Truffles
1 package Oreo cookies
1 8 ounce package cream cheese, softened
white chocolate and dark chocolate
Put the oreos in a food processor and pulverize them! Kathryn may have told me she puts them in a ziplock and crushes them that way, don't think she has a food processor…..but it's so easy if you do! Mix together the cookie crumbs and softened cream cheese.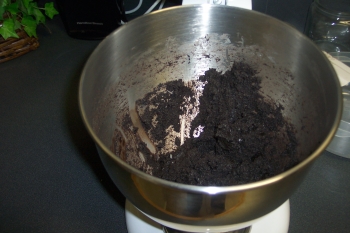 That doesn't look very appetizing I know but it gets better! Then form them into balls, maybe walnut size or whatever size you want. Put them on a baking sheet and into the fridge to firm up, for about an hour. I put wax paper on the pan.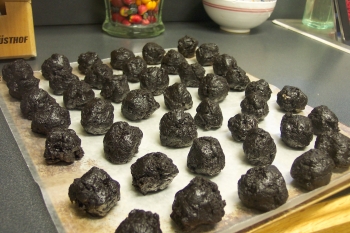 Melt the white or dark chocolate, whichever you'd like to dip the balls in. For this time of year I dipped them in the white and used the dark to drizzle. I just used the packages of almond bark for the white and dark! So much easier to me than trying to melt chocolate. And I used the microwave for melting. It is a little tricky to dip these balls and I tried several different ways but it was all about the same. I tried toothpicks first and then just mostly used a spoon to dip them in and coat them; let it drip off as best as I could. Then put the coated cookies back onto wax paper to harden. Melt the other color chocolate and drizzle over the top! You can do it opposite, dip in dark and drizzle with white. I might even dip them in white and sprinkle with red sprinkles if I have them! I thought they looked good on the plate!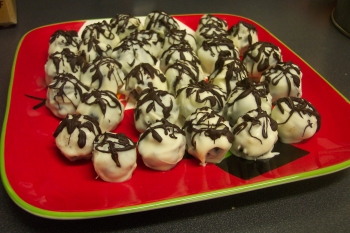 In fact, they look good enough to eat!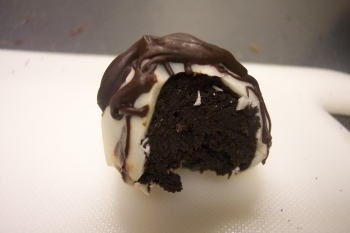 I only tasted it so I could make sure it was fit to take as a gift! And so I could tell you if they were good, and they were really good! So good that I want more. 😆
Two of my kiddos will be home today; the other two will get here later Christmas afternoon. It will be fun, fun around here then with little ones too! I'm looking forward to it, but get tired just thinking about it!
I'm off to church this morning…..we have a living nativity tonight and a candlelight service Monday night.
Can't wait to show you a fun happy I made the little kids!
Hope to pop by to visit in any down time I have!
11 Responses to ""Oh, oh, ice cold milk and an Oreo Cookie…""
Leave a Reply