"cause we're going out tonight"
The red jumpers are finished and mailed off to the little girls! I can't wait for them to get them and I hope they love them as much as I do. 😆 Click through to the extended page to see the dresses, minus the girls.

Kathryn remembered that I had red corduroy in my fabric stash (I have waaaay too much stuff and need to whittle this pile down) so she thought it'd be cute for little jumpers for the girls. She knew she wanted a black monogram on the one for Katelyn and we decided after emailing back and forth that I'd add black and white polka dot trim to the bottom. It turned out really cute!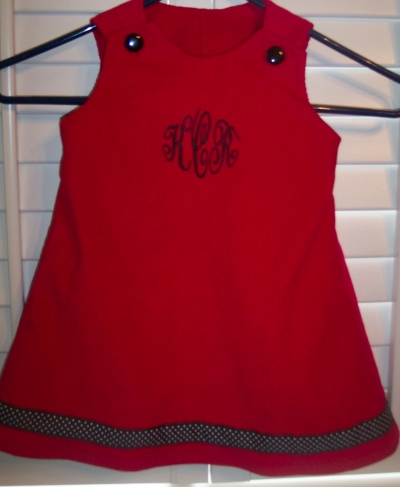 Shanna and I emailed too and she wanted white on the one for Ava Clair…..I looked and found a font she liked for hers and was so glad I got this fun curly one, I'll have to find something else to use it for now because I love the way it looks! Then we decided on white rick rack for the bottom.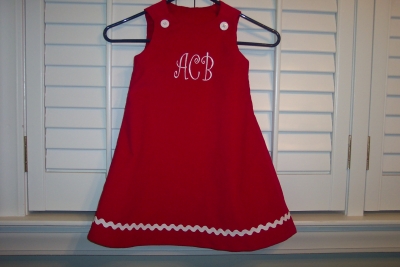 I'm glad I did them just a bit different for both of them; the different lettering and trim suits them. I'm anxious for them to try them on so I'll know if they fit. (fingers crossed) Sewing long distance is hard! Now I'm working on pj pants for Grayson because I couldn't send something to the girls and not to him!
They'll all be at my house sometime during Christmas so I hope to get a picture of them actually in the dresses at the end of the month!
updated to say: , yes, I'm very lucky and very glad I have a machine that can do this! Love my Bernina!
19 Responses to ""Put on your Red Dress baby…""
Leave a Reply