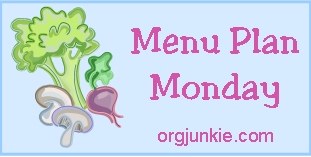 This week will be busy for us so I probably shouldn't try to do menus! We had at least one meal last week that I didn't get to so if needed, it'll be used this time.
Monday…..we have a Sunday school party, I'm taking chicken tenders and maybe hash brown potato casserole (there will be lots of other food I don't have to cook!)
Tuesday….leftovers
Wednesday…church supper
Thursday….hubby's birthday! I don't know yet if I'll cook or if we're going out
Friday….Monterrey chicken, carryover meal from last week
I kind of like having short weeks of cooking, but the eating out isn't so good for me. 😆
Be sure to visit Laura's place because the other participants will have real menus with much better ideas!
3 Responses to "Menu Plan Monday"
Stacy Says:
December 10th, 2007 at 9:45 am

Yum, I haven't had hash brown potato casserole in years and years. I bet it will be great 🙂 Definitely take him out for his birthday – you can bring him here to Chili's so he can get his molten lava cake for dessert, hehehe!

jen Says:
December 10th, 2007 at 10:47 am

Sounds good to me…..Happy Birthday to hubby this week.

Sandra Says:
December 10th, 2007 at 11:00 am

Gail your menu sounds great, thanks for sharing 🙂

I love hashbrown casserole 🙂

Mine is up too!

♥Sandra♥
Leave a Reply