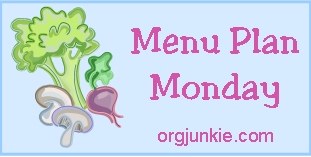 We got most of our meals done as planned last week so no carryovers for me this time. This week could be a bit hectic so things will very likely get shifted around as I go!
Monday….out to eat with friends
Tuesday….monterrey chicken, smashed potatoes, peas
Wednesday…church supper
Thursday…..baked fish, green beans
weekend….if I've cooked all the above things I might fix a batch of soup to go with sandwiches
Have a good Monday! Be sure to visit our lovely hostess Laura to see her menu, ideas and all the other participants.
11 Responses to "Menu Plan Monday"
Leave a Reply