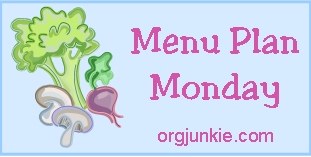 Last week's meals didn't all get cooked as planned! So I have a few carryover meals from then, and maybe this week will be a little more normal. Hope all of you had wonderful Thanksgiving feasts and time to visit with family! Check out tons of other menu ideas at Laura's place…..most of them are more organized than me!
Monday…..baked salmon, mixed veggies, dressing
Tuesday….crockpot chicken, potatoes, corn
Wednesday…church supper
Thursday….vegetable rice stew
Friday….leftovers or maybe quesadillas if we're home!
9 Responses to "Menu Plan Monday"
Leave a Reply