I was tagged by Karen last week for this 5 Things Meme! Sounds like fun, so here goes with mine.
5 things I've always wanted to do:
travel all around the world, plus all 50 states
instantly be able to play the piano!
go to NYC at least once a year
be totally organized
sing
5 things found in my bag:
billfold
lip gloss
tape measure
receipts
camera (unless I'm using it at home!)
5 things in my wallet:
driver's license
credit card
money
more receipts
checkbook
5 things I'm currently into:
blogging (way too much sometimes!)
reading
sewing
reality tv shows (probably should quit)
upcoming holidays
5 things in my room…………

Some people have just listed these and some have done pictures. I opted to do some photos, I know you're so (not) excited! I picked the den or family room; it's where spend a lot of the time.
My chair, until other people come and take it from me!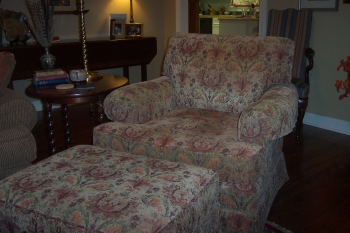 The mantle over our fireplace…..we didn't build this house but the people that did got this from an old house off a farm somewhere I think.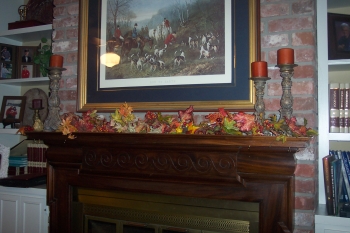 Coffee table, I think I'm supposed to be keeping it for Elizabeth because it doesn't fit in her place this year. But I'm loving having it and have gotten rather attached to it Liz! Just so you know, possession is nine-tenths of the law. 😆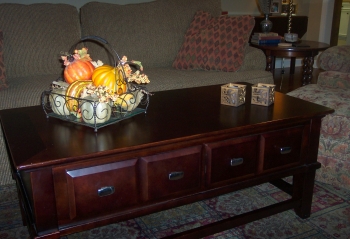 Table on another wall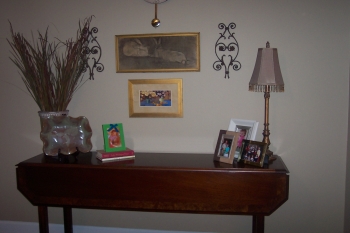 Entertainment center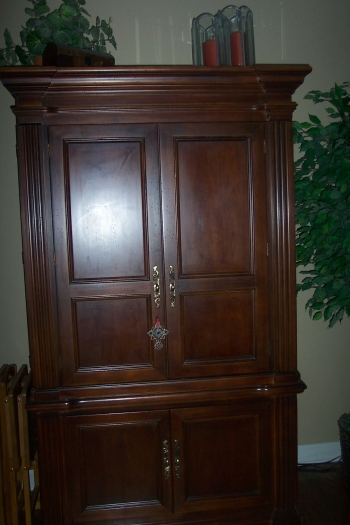 The entertainment center NEVER looks like that! It usually looks more like this, sometimes worse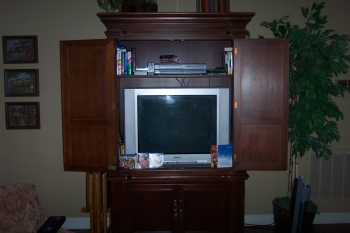 And that shot of the console table that has pictures hanging over it, I took a close up of one of those pictures. It's kind of a neat drawing, charcoal I think, done by my grandfather many, MANY years ago. I don't know how old it is, he might have been a boy when he did it. This is the frame it was in when we found it while redoing the downstairs of our house. It's probably the original frame and my grandmother might have given it to us for one of my daughters that has that family name but, I might be keeping this one a while longer too!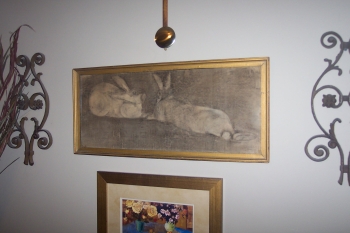 I'm probably supposed to tag others but am not taking the time today to do that! But I'd love it if lots of you played along too and show what's in your house! Before we start showing off for Christmas you know…..come on, do your thing!
10 Responses to ""It's your THING, do what you wanna do….""
Leave a Reply