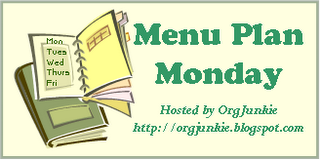 I'm not sure about planning this week, some of our plans as far as meals seem to be up in the air! But maybe at least this will give me something to shoot for.
Monday…..night off!
Tuesday…..chicken wraps and fruit, if my child makes it home this night!
Wednesday..Shrimp and wild rice casserole, veggie
Thursday…..Thanksgiving! We'll eat with my sister Stacy and family at her house and I need to find out from her what all I'm bringing. The only thing I know of for sure right now is Squash Dressing…..I'm sure there will be other things so might update later.
Friday…..Crockpot cranberry chicken, creamed potatoes and some veggie to be determined later!
If I need another meal for the weekend I might cook this Vegetable Rice Stew, easy to do at the last minute.
Hope you have a good week and wonderful Thanksgiving!
11 Responses to "Menu Plan Monday"
Leave a Reply