We don't always get a lot of the spectacular fall colors that other parts of the country get, (maybe because we're a little too far south) and this year the color has seemed slow in coming. We haven't had a ton of cool weather so that might have something to do with it. But I noticed while walking this week that there were a few trees that looked especially pretty to me with the bright sun shining on them. I'll put a couple of pictures on the extended page….

This is a Chinese Tallow tree that's in my backyard…the kids have always called it a popcorn tree! It gets these little seed looking pods on them that will burst open and be white, looks sorta like popcorn. I didn't get it to show up as well in the photo as it looks in the yard!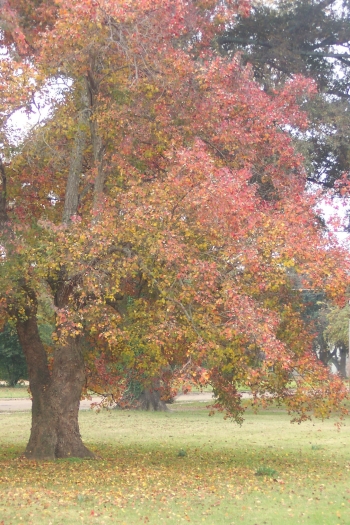 A close up of the leaves….you might can see the little dark seed pod things. Sometimes these are fun to cut and decorate with if you can catch the branches at the right time with the white seeds all opened up on them. A few of them are just starting to open up on the left side of the picture.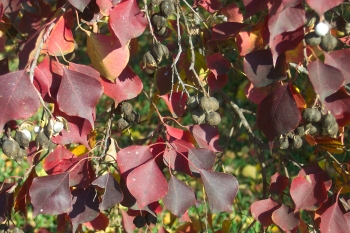 I have a very old, very big crepe myrtle tree in the yard too. Sometimes it's a wonder to me that it's still standing. It has fallen over 2 different times in past winters, due to ice storms. Don brought in some big equipment, attached heavy wire to the trunk and pulled the tree back up to a standing position. Then he pulled the wire taut, staking it into the ground and left it like that for almost a year. The tree had leaves come back both times with blooms in the summer. I stood underneath it the other day and took this one…..I love these red leaves!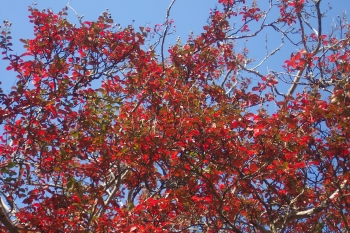 On our morning walks this week, we've also noticed a really pretty tree that looked SO yellow. I think it was the way the sun was shining on it because when we got past the tree and turned around for another look, it looked more orange! I meant to go by there yesterday and take a picture but didn't make it. This morning we saw that almost all the leaves had fallen since yesterday; we had some big storms and lots of wind so I think that took most of them off. But I picked up one leaf on the street, just because I'm weird that way and thought it looked nice!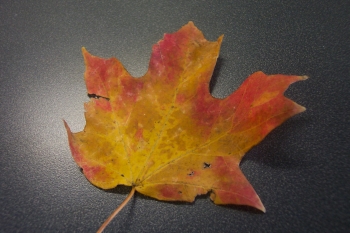 It's not the big showy stuff, but not too bad for my little corner of the world!
11 Responses to ""Color my World""
Leave a Reply