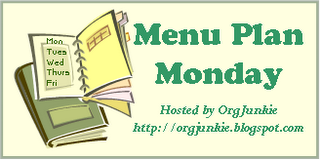 Surely it can't be Monday already! Please visit the hostess with the mostest Laura for other great menus on Monday plus tips any time of the week.
Monday…..White chicken chili
Tuesday…..Baked fish, roasted sweet potatoes, veggies
Wednesday…church supper
Thursday….Crockpot chicken Santa Fe, chips
Friday…..maybe hamburgers if we're home
I might also bake some banana bread this week, possibly to put in the freezer, and some really good oatmeal bars…….someone was kind enough to share the recipe with me and I might post it after I've tried them out.
8 Responses to "Menu Plan Monday"
Leave a Reply