Several of you commented that you wanted to see what I bought when I went shopping last week. I'm sad to say that I found nothing, absolutely nothing! I had a great time being with Stacy and going in different stores but for some reason I just couldn't find anything worth getting. We went to Hattiesburg on Saturday to see our Dad and sister Suzanne who'd flown in to visit him for a few days so went spent the day there. We all went out to lunch at Leatha's, a barbecue place that's been written about several times, including Southern Living. We had fun doing that but I don't have pictures from there because my camera battery died. So I did buy a battery Saturday and a jug of detergent but I don't think those really count for a shopping trip! This morning I decided to go to a neighboring town to look around a little bit and today, well today was A Horse of a Different Color!

I went to a fabric store first……..I know that doesn't interest most of you but I was excited about what I got. Maybe this will be finished later this week and I'll show it to you all done. Can you tell what it might be? Probably not! 😆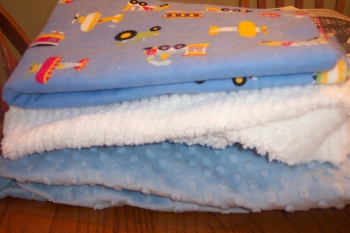 Then I went to Belk to look around. I found a t-shirt kind of top on sale and thought maybe it would do ok with jeans and anything casual.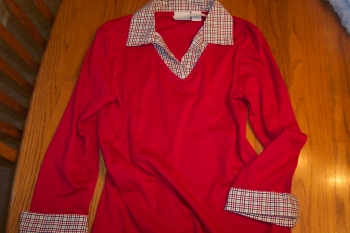 I was looking for something to wear with brown dress pants for church but everything I could find went with black! I seem to wear black pants or skirt to church every.single.sunday…….how many Sundays in a row can I do that? I got these 2 tops and they both will go with black…….I know I probably overdid it with red but this one is a sweater vest and more dressy than that one above!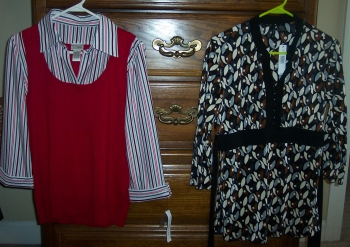 When I checked out, that red sweater vest was way less than the $25 sign on the rack…it was 8.99! For that price I figured I should get another one! I'd tried the same style on in green but it was more of a sweater than sweater vest…..rats, it wasn't as cheap as 8.99 but it was still only about 17 so I decided to get it after I'd already checked out.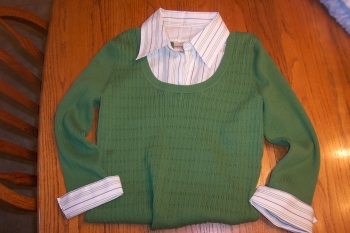 I think the green one could go with pants or jeans and with jeans/boots it could be a little dressier than just wearing a t-shirt top. I'm rationalizing I know and I overdid it with the same style but there seemed to be tons of these and I'll wear them for different times/occasions. Maybe I'll end up taking one of the tops back, not sure yet. Still didn't find any pants or jeans but hopefully on another day I will; I seemed to be zeroed in on tops today. One of the reasons I like these so well, they don't have long sleeves or really long sleeves! I just don't ever really like wearing long sleeves unless it's very cold out! If I'm around the house and have on a long sleeve shirt, I usually wear my sleeves pushed up to around my elbow…….not sure why I do that. Except I'm only 5'4″ so usually anything with long sleeves is waaaay too long for my arms and needs to be altered. But I hate trying to alter something. These are either 3/4 length or almost to my wrist so I won't be pushing them up constantly! Now if the temperature goes below 80 anytime soon, I'll have some shirts to wear!
15 Responses to ""A Horse of a Different Color""
Leave a Reply