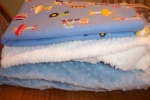 Recently I showed a picture of some fabric I'd bought and I've been working on this project trying to get it finished. I've been sewing for a long time but quilts/blankets are not something I really know how to do; I'm just now sort of learning. Mine isn't very fancy and won't really be that much to people who know how to do the real thing but I'm happy with the way it turned out!

The print fabric is a flannel piece I bought when I was in Charlotte and brought home with me….baby Sam's room is trucks and vehicles. The white is a chenille that someone in the store here suggested I use for the alternating squares and the solid blue I used for the back is called Minky…..it is soooo soft and feels really cozy! I cut big squares to use for the top and laid them out on my floor!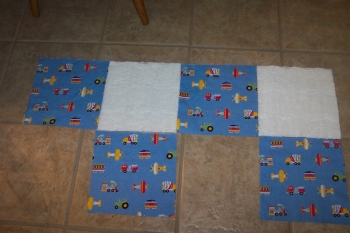 I sewed the squares together to make rows and then sewed all the rows to make the top of the blanket…..not sure if that's the correct way to do it or not but it worked for me for this. Then I sewed the blue on for the back, turned it all and finished the edge and tied it together. And yay, I got it all finished up!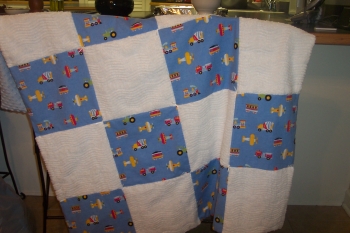 This is the back……..very soft!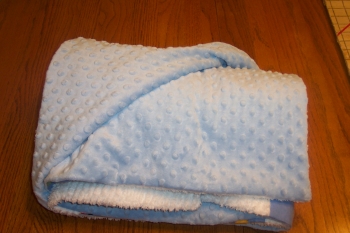 It got all packed up and sent off about a week ago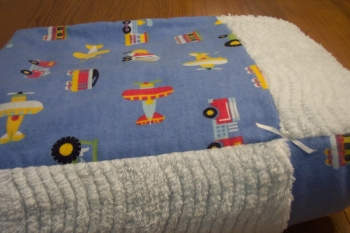 It was kinda fun to do; I hope they enjoy using it for baby Sam. Oooh, and we have a new baby coming late spring…..I'll find out what they're having in another week or so, I'm so excited! I hope I'll get to do another one of these for the new baby. I think I'll wait until after I get through with Christmas before I start it. 😆
16 Responses to ""Are you sleeping, are you sleeping….""
Leave a Reply