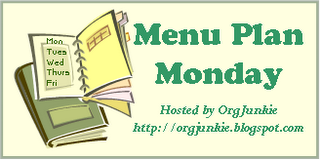 I haven't done a menu in a couple of weeks because I've been out of town and not able to post as much! I really feel a need to get back somewhat organized this week so this will give me something to shoot for while grocery shopping.
Monday……Maple Hoisin Salmon, green beans
Tuesday…..Baked chicken, stir fried veggies
Wednesday…church supper
Thursday…..Spaghetti sauce with whole wheat pasta, corn
Friday……..leftovers if we have any or go out to eat or make quesadillas at home!
Hope you have a great Monday. Thanks Laura for hosting this each week.
6 Responses to "Menu Plan Monday"
Leave a Reply