As I've said before, my hat's off to you girls with kids at home who blog as well! I don't know how you do all you do…..cook, clean, tend to kids and find time to write. I've been doing laundry, meals and playing or taking care of Katelyn and find myself rather tired! I think I've finally got a few pictures to share, although it's been hard to pick just a few. Click through to the extended page if you want to see them…..

Sam was born late Monday night and we got to go into the room to see him about 30 minutes later! And I think Mama looks pretty darned good for just giving birth to a 10 lb. 5 oz. baby boy!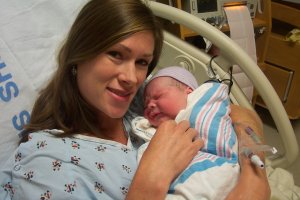 One with both parents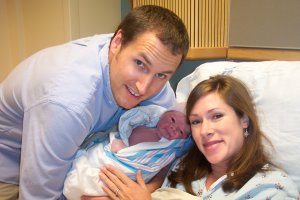 He was having his foot pricked here and you can't see his face but it sort of shows all of him….it might let you see how big he is!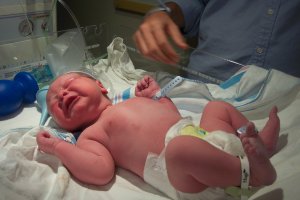 This is when Katelyn got to see him for the first time the next morning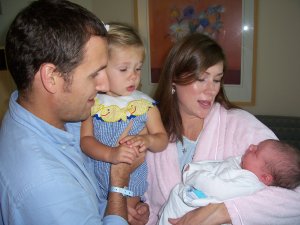 Right now she seems to love him, kisses all over him every chance she gets and gives him some pats on his back or tummy. She has been just a bit clingy at times to mama & daddy which is understandable…..and I wonder what goes through her mind about him! I took her with me to the store this morning to grocery shop, so mom could have some time by herself for a while. Kathryn asked me tonight where I could take her tomorrow! I've cooked some meals, done laundry and made lots of trips up/down the stairs……..that doesn't make up for the walking I haven't done in a few days so I need to see if I can get that done these next few days. I have tons of pictures so I'm sure you'll get your fill soon! I miss home, hubby, my routine and of course all of you! I'll be sporadic with blogging and especially visiting over the next week but can't wait to catch up soon!
21 Responses to ""Where the Boys Are""
Leave a Reply