Plans were made last week for me (and other family members) to come to Charlotte on Friday when K thought she would have her baby. I would drive to Tuscaloosa, AL to spend the night with my other daughter and then make the rest of the trip Friday. When Kat called Thursday afternoon to say the dr. didn't help get her labor started I figured I should stay home until something was happening. I quit loading my car and settled in for the evening….then she called back and said Jeremy's family was coming anyway and that I should come on! It was after dark by then, I was undecided about what to do. Don told me even though it was dark he thought he'd like for me to break the long trip up, so I should go ahead and drive that night to E's house anyway. By the time I got the rest of my things together it was almost 8:30 before I left. There is one stretch of road before I get into Tuscaloosa that seems a little deserted with no cell phone coverage. I called several friends to let them know I was travelling so they could pray for me, I was worried something would happen to my car after dark. A little after 10 I came upon a license check roadblock around Starkville, MS. No problem, I always have everything with me! He shined his light everywhere, looked at my license and then told me my tag had expired on Monday, argghh! He asked me if I was going to take care of it and I told him I would so he let me go on! The rest of that leg of the trip was uneventful.

I visited with E for a bit Thursday night and decided to try to get on the road around 8ish Friday since I still had about 7+ hours to go; I wanted to do my driving in the daytime and would lose an hour going. All went well for most of the way. When I was close to Greenville, South Carolina I noticed my car/steering wheel started shaking. I wasn't sure what it was, talked to Don but he was in TN and it was hard for him to know what it was or what I should do. I was in about 3-4 lanes of traffic on my side of the highway with me in the middle and just a few minutes after getting off the cell there was a loud booming kind of sound and the car sorta felt like it fell and became hard to steer. It was so sudden, so startling to me and I felt like I had to make a split second decision on which shoulder to aim for without losing control of the car. I made it off the road on the left side with cars whizzing past me shaking my car with every pass. Yep, a blowout on a very busy stretch of interstate 85 in South Carolina! I was shaking so hard by then, felt very alone and had no idea what to do. Called hubby back right away, he took my 800 number for GMC and told me he'd call someone and call me back. Before he could call me back, a truck with flashing lights pulled up behind me with South Carolina DOT written all over his truck. His name was Ed, he said I could wait for someone my hubby called but that he was on an incident/emergency response team, this was his job and he could change my tire for free and get me back on the road! And he did just that…..he jacked up the car, got out my spare which happened to be a full size tire and got it all taken care of. He said they monitor all along the interstate for these kinds of things, he'd been following an erratic driver to get info on her and had passed me going northbound. After dealing with that car he turned around to go south and saw me stopped on the side so he came to help me. I was the 9th person that day he'd changed a tire for I believe he told me. What a great service that is in South Carolina!
I'm so thankful that this hadn't happened the night before when it was dark, I'm so glad I was where I was and could get help immediately, and I'm so glad that no one got hurt in the process. I know the Lord was watching out for me, taking care of me. I'm also grateful for Ed, my new best friend, new pal and guardian angel! I so wanted to take his picture but just couldn't get up the nerve to ask him….plus my camera was in the car that was jacked up. So no pictures of him or the tire on the car but here's the tire he put back in the back of my suburban.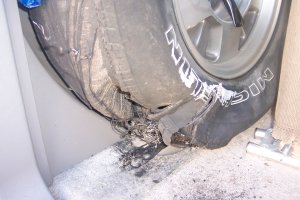 I think it looked worse when it was still on the car than it looks sitting there! But I wasn't going anywhere when it was on the car. Ed also told me the other back tire looked like it was going to do the same thing pretty soon and that the spare was worn also. I now need a new license tag plus new tires before I can drive home! And yesterday Jeremy's dad's car broke down so he's out this morning trying to get it fixed. This trip so far has been all about the cars instead of the baby! But a doctor's appointment is on tap for this morning so maybe things will start up after that!
18 Responses to ""If you'll be my bodyguard I can be your long lost Pal""
Leave a Reply