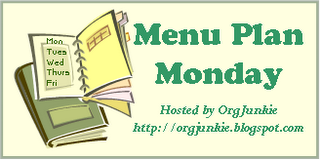 I pulled some new recipes out to try but then got to looking in my freezer and decided that there were things I needed to work on getting used up soon! So nothing earth shattering this week, although I will use some meat for a new crockpot dish I think.
Join in the fun and visit Laura for all the other menus this week!
Monday…..Seared tuna steaks, veggies
Tuesday….Grilled chicken wraps, fruit
Wednesday..church supper
Thursday….Crockpot pizza……..I think this is more of a pasta, meat, cheese dish done in the crockpot. I've never done it before so haven't posted the recipe anywhere yet.
Friday….leftovers
Last week I made this baked salmon dish and a ranch chicken salad….both turned out good! I made the vegetarian lasagna which we also really liked, but the link wasn't working. Let me know if you want the recipe and I'll try to get it posted or sent to you.
13 Responses to "Menu Plan Monday"
Leave a Reply