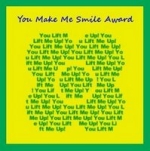 I'm still trying to catch up from when I was out of town…..maybe if you all just didn't post for a day or 2, I might could get all caught up, Kthanksbye!
Jen from a good cup of coffee passed this along to me recently; she's too sweet!
The sentiment behind this award:
the thing that I love most about blogging is that I learn so much about a person just by reading their blog. I have met MANY wonderful people with wonderful stories to tell,and I am grateful every day for each person that I have the pleasure of crossing paths in life with.I wanted to create something special for people who have inspired me through their blogging; the stories they tell, and the lives that they lead with grace and dignity. I visit their blogs for inspiration and encouragement.Although there are MANY people I want to give this award to at this very moment, I am going to choose ten bloggers:Please grab your badge and wear it(with a smile) proudly, and pass it on because you inspire and encourage me, thank you.So, now it is my turn to pass it on
It's always hard for me to pick for these kinds of things, am never sure of who has gotten it before, who has time to do them, etc.! So I'll pick just a few today and maybe they can pass it along too.
Jenny, a coach for life
Jenna, a joyful journey
Mandalyn, my grace and hope
These are 3 real life friends who also happen to be from my state; I've enjoyed reading and learning more about them plus I got to meet Jenny this summer! It's fun to see their comments to each other and read about them interacting at church and in their homes.
Annie, my life as Annie….of course she makes us all smile! She shares her life story with us as she blogs and writes. Sometimes I pop by her place just to listen to the music!
Becky, the butler's wife…… her latest post as I'm writing this had great ideas about recycling & if we had it in our area I could learn a few things from her. She's a pastor's wife, which I love hearing about, she's very crafty and sews as well so it's fun for me to find girls with some of the same interests as me!
Kim, Kim's candor…..her hubby just left for an extended vacation in the desert. Her family inspires me, how they live with a family member in the military and are dealing with all that right now with her girls. I'm proud and grateful for people like them…..I think I first heard from her call us "imaginary friends" and that makes me smile!
I really have too many others to list tonight…..I still am enjoying this blog journey and all of you make it so much fun each week!
9 Responses to ""When You're Smiling the Whole World Smiles With You""
Leave a Reply