Apparently it doesn't take much to entertain our family sometimes! While we were in Texas this past weekend we got to talking about the fact that Saturday was the equinox and someone mentioned that on those days of the year is when you can stand eggs on their end. Shanna teaches 3rd grade; she said the 5th graders the day before had been trying to do it at school with the teacher and he told them they couldn't do it Friday but could on Saturday on the equinox. It was in their books she told us. I'm not sure I've ever heard this before, probably because it has to do with science and I like science about as much as I like math and numbers which is zero! So Trent got out a carton of eggs and proceeded to try standing them up……we are easily amused and entertained in our family. 😆

This picture was taken on Saturday, although I didn't have the date turned on my camera…..he did get 3 to stand up!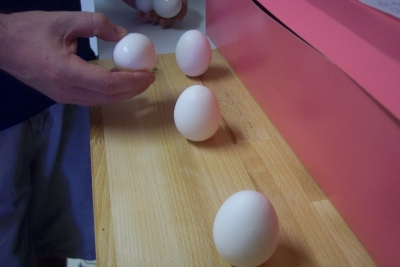 I started googling this and mostly what I found was that this was a myth or bad science maybe as some places called it. Some places said that it comes up about once a year or so and some news channel will do a story on it. I also found places that said you could stand eggs up any day of the year, if you had enough patience. Shanna said it was in the textbooks of 5th graders at school! So I don't know if it's true or not. We did get eggs to stand on their ends on Saturday, BUT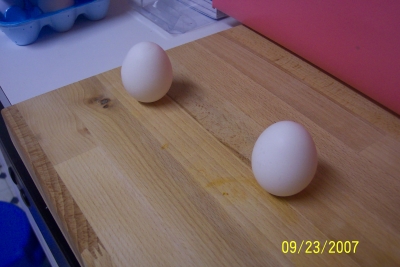 Notice I got my date turned on my camera before we tried again. Trent got a couple more eggs to stand on the ends on Sunday! We like to have big time fun!
However, this little song Grayson kept singing us over the weekend did entertain us BIG time….we got lots of laughs out of it although we aren't sure what it actually means. It's something they must do at his preschool or some routine they have the kids go through. I finally filmed it on my camera and uploaded it, the quality isn't that good. But here are the things he's saying in case you can't hear it:
Thumbs up, elbows back, feet apart, knees together, bottom up, eyes shut, tongue out……..then he goes through some little sing song thing and none of us knew what it was he was doing! But as I said, we get amused easily some days. (I personally loved the elbows back part because he said it in the funniest way with such a drawl, but don't think I ever got it filmed when he did it)
We heard this MANY times this past weekend!
"Let me entertain you and we'll have a real good time"
16 Responses to ""Let Me Entertain You….""
Leave a Reply