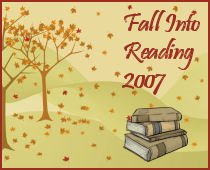 I participated in this challenge last year and thoroughly enjoyed it, not only the reading but seeing all the different reading lists by the participants! If you aren't familiar with it and want to check it out, stop by Katrina's place and get all the info in this post. You can see all the other many participants and find their reading lists too. Katrina is giving away a prize at the end as well as doing some book give aways during the week. Sign up by Wednesday so you can be included!
Here's my list for this challenge:
Fiction…….which is mostly what I read
The Prodigal by Beverly Lewis
Big Stone Gap by Adriana Trigiani
My Sister's Keeper by Jodi Picoult
Dear John by Nicholas Sparks
The Memory Keeper's Daughter by Kim Edwards
Peace Like a River by Leif Enger
Shepherd's Abiding by Jan Karon, for Christmas time!
I'm including this nonfiction book…..we're using it on Wednesday nights at church. I'm hoping that putting it on my list will help motivate me to finish it.
Beyond Jabez by Bruce Wilkinson
15 Responses to "Fall Into Reading Challenge"
Leave a Reply