Stacy bought something because I told her I was craving something sweet! These are SO good, I think I must have eaten about 22 of them last night although Stacy said there were only 20 in the box. We went to see our dad today and when we got back we realized that the cookies were about gone, tragedy! We remedied that by going to Kroger to get another box. Stacy posted a picture on her photo blog too. I might have to look around and find a recipe for these…..butterfinger cookies.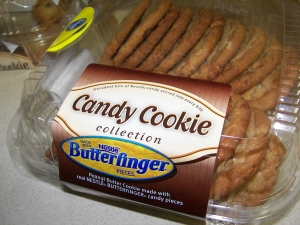 I'm not gonna look at the nutritional info!
Back to regular blogging and blog visiting tomorrow I hope……I miss seeing what's going on with you.
14 Responses to ""C is for Cookie that's good enough for me""
Leave a Reply