Yesterday I had a sewing class, well maybe more of a software class, to learn about a new update I got for my machine. Then I spent a lot of time afterwards trying to practice using it so I can use the monograms and lettering more. I did learn a few new things…..one being that I needed to come home and calibrate my computer screen so when I've finished arranging my design it will show me the correct size on the screen. Oh and let me say right now, I don't like math or numbers. I got the instructions pulled up and figured out what needed to be done…..I had to measure a dialog box on the screen and enter the info and then the program would calibrate it. I chose inches and English measurements because, well because that's the way I learned and I'm not very good at metric stuff; I don't like numbers, did I say that?! 😉 Then I noticed in the example on the screen that it needed to be entered in decimals, ugh and I hate to say it but I didn't know how to change my 4 7/16 inches into decimals! It's a wonder I ever took advanced math in high school! And I graduated college too, but math/numbers are not my thing at all in case I haven't told you. I called Stacy but she wasn't sure what I was talking, I didn't do a good job explaining it to her and she doesn't sew. But I did get my smart hubby on the phone and he figured it for me right away, he works with numbers and conversion things every day…..he can be VERY handy! (If I remember correctly off the top of my head, ha, I think it came to something like 4.4375) I don't like numbers in little boxes, did I say that already? There's a reason I'm not something like a bookkeeper and I certainly didn't want my machine embroidery to involve numbers. But I finally got my screen calibrated and did a monogram for the first little burp cloth I did. I'm very happy with the way this one turned out because I've not been able to do these diamond shaped monograms before.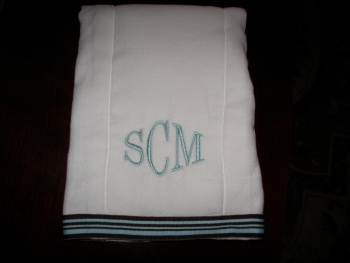 I know that doesn't seem like much but this was a big deal for me that I sorta got this stuff figured out and got it all stitched out. Now I've got to work on some cute boy designs for the other burps I'm wanting to make before the new baby comes!
I shopped briefly with Stacy this afternoon, we're going to visit with our dad so it'll be later before I get back to the computer to come visit.
Hope all of you are having a fun week in what you're doing!
15 Responses to ""I Know it's not much but it's the Best I can do…""
Leave a Reply