Well not me, but both of us did! I made a plate of nachos over the weekend for us to eat while we watched movies. Don ate most of it really and if you knew him you'd know that's something he can do, eat like a bottomless pit and not gain weight. (There is no justice)
Stacy has seen him, she'll tell you that he eats heartily!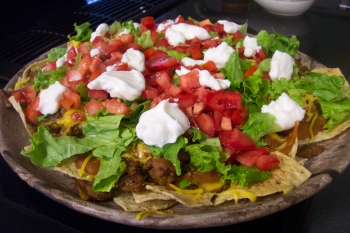 These turned out really good and were great for movie watching……Stacy likes what she calls "game day" food so they'd be perfect for that too I think. (most people that have been here think our tv room is good for movies too! a secret room in the attic, with a tv that I think is too big!)
We've been watching a lot of movies lately, I still have my free netflix trial going. Plus our local movie rental place had a deal this holiday weekend where you could rent one free movie a day from their regular section, not among new releases. I still had some movies in the queue to watch that were older so we were able to rent 4 free ones this weekend as well; have watched 2 of them and still have a couple more. Here's some of the ones we've watched lately:
Click…..a comedy about an overworked dad who stumbles upon a universal remote that lets him control the events in his life. Pretty good movie but has some crass, course things in it with some bad language, all of which I think could have been left out and it would have been as good! We watched this with a group and all of us dubbed it a modern day techie version of It's a Wonderful Life (the original is still better!)
Flyboys….true story about a group of Americans who volunteer to fly for the French military before the US enters WWI, the Lafayette Escadrille. I think the characters were fictitious it said at the end but based on true events. We enjoyed this one and it had some pretty good action in it if you like that, still had some bad language in it because I think most anything to do with war does.
Take the Lead…..a professional ballroom dancer and teacher offers his services to an inner city school in New York. The kids like hip hop, are troubled and don't want to learn from him. It's based on the true life experiences of Pierre Dulane. Pretty good and loved the dancing!
The Prize Winner of Defiance, Ohio……another true story, about a woman in Ohio in the 50's and 60's who supports her family of 12 by contesting. Apparently back then there were tons of contests to enter and win, she was a writer and would come up with jingles/slogans and won quite a few things over the years. This was billed as a comedy but Don and I both thought it was a little sad, mainly because of some of the family situations and I hate to say too much about it so I don't give things away for you. Just a little slow in spots but I really enjoyed it.
Coach Carter……another one based on true events and a real coach in California! I got this one because Don said we hadn't seen it, I sorta thought we had. About 30 minutes into it we realized we had seen this one a while back but we watched it again anyway! In 1999 Coach Carter is asked to coach troubled teens at his old high school in California; he has some unorthodox methods that don't go over very well at times with the faculty and parents but the kids seem to respond to him. We watched the extras at the end to see a feature on the real coach and players and that was interesting to see.
Duplex…..I got this one because one of our friends in our movie watching group had seen parts of it on tv before, thought it was funny and wanted us to see it! It's like 4 years old and is about a couple that buys a duplex in Brooklyn, an older lady lives in the upstairs part. She's hogging the upstairs as part of a rent control agreement, they decide they want her out so they can use the whole house and then the antics to get her to move begin. Ben Stiller and Drew Barrymore play the couple, most anything with him in it is going to be silly, slapstick type humor and this is no exception. It has bad language and some course, crass humor in it; we laughed out loud at some of the stunts and it was an ok movie. Definitely not for kids.
We tend to like movies about real things/people from looking at my list, with an occasional comedy thrown in!
Today or tomorrow the movie The Ultimate Gift is shipping to me, I've read on some of your blogs that's a good movie so I'm looking forward to it.
And…..I think we only watched 3 of those movies this weekend, the others have all been in the last week or 2.
Today's title isn't a song, but a jingle or slogan, if you will…………recognize it?
18 Responses to "I can't believe I ate the whole thing!"
Leave a Reply