Back in the spring I won a free trial to Netflix, something we were very excited to try out. I got signed up at the end of June and the first 3 movies were shipped to us. Hubby has been chomping at the bit for almost 2 years now to see a movie he'd read about in World magazine. It never came to a theater anywhere close to here and hasn't been in the video store here either! In fact, they looked at him sorta funny and did that "huh?" thing when he asked about it. So the first one we signed up for was this: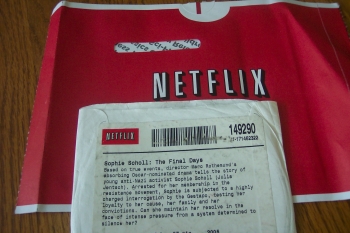 Oops, you probably can't read it! The movie is, Sophie Scholl: The Final Days It's a true story about a 21 year old girl in Germany and her involvement in a resistance movement against Hitler. Some university students recognized how evil Hitler was and began to write leaflets about the truth and distribute them to the German people. This group was called The White Rose Society I believe. It shows their courage and their unwavering faith. We are usually drawn to movies about WWII and particularly like ones that show true stories. This one did not disappoint, hubby was very pleased he got to see it.
I'd recommend it as a good movie for adults to watch because of the intense subject matter and as best as I remember, it was a fairly clean movie…..it's a German made film with English subtitles.
We are really enjoying our Netflix trial! There's something very magical about movies appearing in the mail at your door! D absolutely didn't like going to the one and only video store here, and it's just so much easier to pick them out online and have them come right to you. It's something I think we might keep up after the trial runs out, with Netflix or someone else, at whatever the best price is we can find.
I'm looking for more movie suggestions too so if you have any, please pass them along! What are some good ones, funny ones, ones you liked?
15 Responses to ""Do You Believe in Magic…""
Leave a Reply