I've been thinking about this subject for a while and trying to decide whether to share it or not…because if I tell you, you might think I'm crazy or just a little bit weird! Or you may already think that and are just being nice. 😆 But here goes:
At times I seem to be rather quirky obsessed cheap frugal about trying to get every.single.last. drop of a product out of the container it's in! If it's in a bottle it can be rather easy, just open it up and pour out the rest. When the hairspray bottle won't spray I just pour out the old into the new bottle and keep going. When the liquid dishwasher or laundry detergent bottle starts getting hard to squeeze I keep it turned upside down so I can get more out. Once I think I kept using the dishwasher liquid for almost a month by keeping it upside down! I'd shake on it each time and there'd always be enough to pour in the dispenser, and that can be a real moneysaver if you can go several weeks longer using different products. One of the harder containers for me to totally empty is some kind of tube, whether it's the one my tinted moisturizer in is or a tube of lotion from Bath & Body or some kind of hair product. When it gets low I start squeezing from the bottom, trying to push it all toward the lid. Then I bend it all around and squeeze the nozzle from side to side….it works but it gets rather tiresome doing it every day. (I know, I know: I should probably just throw it out and not be so obsessive about using it all but there's just something in me that won't let me do it.) Today I ran across the BEST TIP EVER for getting all the product out of a tube! And I tell you I'm giddy, just GIDDY with the excitement of it! I think it was Coach J that left me a comment yesterday with a link to someone's Lost post. I went to her blog to read about Lost and found this wonderful tip!
Here's what to do…..CUT the tube in half or almost at the halfway point and then with your fingers you can reach in and get everything out; brilliant! Amanda has written about it so well already and will tell you exactly how to do this. She's gotten 2 extra weeks out of her hair product this way! Her pictures and explanations are great and she even shows you how to put it back together to keep it from drying out. You can check out her fun post here. I think you're gonna love this; you gotta go over to see for yourself! It is just such an ingenious idea and I wonder why I never thought of doing it before! It's such a simple thing but it doesn't take much to make me happy sometimes!
I'll be trying it out soon on my tube of tinted moisturizer: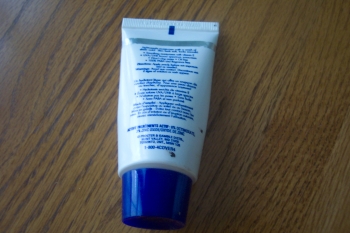 I just love this fun little bloggy world!
13 Responses to ""The First Cut is the Deepest""
Leave a Reply