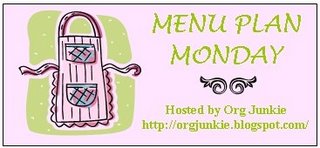 Last week I got a bit off with meals because hubby was out of town, no point making a big casserole just for me! I sorta like it when it's less cooking though, maybe that's not a bad thing. 😉
Hopefully I'll stay on track this week, unless he has to make a last minute out of town work trip .
Thanks Laura for getting us all organized with meals each week!
Sunday…..Shrimp & wild rice casserole, peas (because hubby was gone & we didn't get to it last week)
Monday….Crockpot Chicken Santa Fe, salad, chips…..our night to eat with friends & watch the 24 finale!
Tuesday….Quesadillas (didn't get to this either)
Wednesday..baked fish, green beans
Thursday….pasta salad with ham, corn on the cob
Friday…….grilled deer burgers and maybe roasted sweet potatoes
12 Responses to "Menu Plan Monday"
Leave a Reply