Several people asked about one of the things on my menu this week and when I fixed this once before I got some comments about it too. It's the Shrimp and Wild Rice Casserole that I made about a month or so ago, then used the leftovers for quesadillas………they were probably the BEST quesadillas I've had in quite some time! Not sure if it's because they were different than what I usually fix or if they were really that good; I'm voting for really good. 😆 It's an easy recipe and for us there was plenty leftover to make the quesadillas with.

Shrimp and Wild Rice Casserole
1 package wild rice (I used Uncle Ben's, original I think)
3/4- 1 pound shrimp…you can use fresh (peeled & deveined) or frozen, I used 1 lb. frozen package
2 tablespoons butter
1/2 green bell pepper, seeded and chopped
1/2 onion, chopped
1 can condensed cream of mushroom soup
1-2 cups grated sharp Cheddar
1 T. Worcestershire
can add a dash of hot sauce if you like but I think I left it out
Preheat oven to 350 degrees.
Cook rice according to package directions. (I read in another place after I made this that you might need to do it according to package minus 1/4 c. water, but it might not matter either way). Cook shrimp if you're using raw….I used cooked, frozen shrimp and just thawed them first. Heat butter or oil and saute onion and pepper until soft, about 5 minutes. Combine shrimp, rice, soup, onion mixture and rest of ingredients, mixing well. Add salt & pepper if you think you need it, I didn't use it. Place mixture in a sprayed 9″ or 11×7 casserole dish and bake in preheated oven about 30 minutes or until bubbly. (You could double this if you want to make a big 9×13 pan for a crowd!)
On another day, use the leftovers to make quesadillas. I sauteed onions, peppers and tomatoes in a skillet to add to the casserole because I had not put onions or peppers in it and definitely thought it needed them! I used whole wheat tortillas because that's what we like…..put some of the casserole (with the sauteed mixture added) on half of a tortilla, along with extra cheese. Fold over in half and put on a George Foreman grill or in a skillet on the stovetop. I just cook them in the skillet until it's sorta browned and then flip it and do the other side. Cut into wedges and add salsa and sour cream if you like, and we do!
I used about 1 cup of cheese making the casserole and thought it might could have used more, so I added more doing the quesadillas. Sharp cheese would probably be really good but I had on hand a block of Cabot reduced fat cheese and shredded it in the food processor to use. So extra went onto the quesadillas!
If I actually get around to making this casserole this week on my menu I'll definitely add onions and peppers to it before baking it; and would still add tomato when I do the quesadillas because we love them on almost anything!
The casserole is yummy!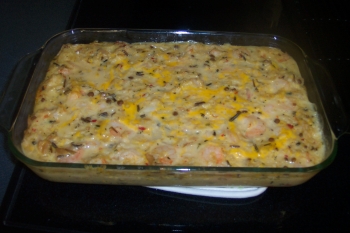 And I loved it as quesadillas: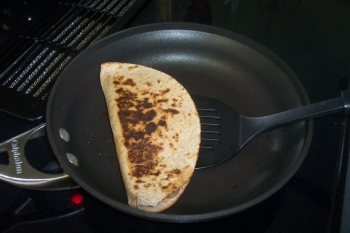 I keep whole wheat tortillas here all the time so I can make quesadillas as a quick last minute meal. You can do so many different kinds….veggie is how I first started making them, with onions, peppers, tomato, several kinds of squash, mushrooms, etc. You can make chicken/veggies, chicken/black bean/corn, these with the shrimp and possibly any other combination you can think of! I suppose people use beef of some sort but I never have because we don't eat a lot of meat. If you haven't tried quesadillas, you should! They're quick, easy to do and very good!
8 Responses to "Throw another shrimp on the barbie!"
Leave a Reply