I'm soooo tired from a really long weekend with family and extended family; can't get motivated to do anything today. Just got home last night and the house looks like stuff was just dropped wherever, which basically is what happened! I didn't get a lot of sleep and am really dragging today. But……..we had fun! Don and I left early early Friday morning heading down to the Jackson area for the weekend where we all gathered for the big occasion, David's graduation! Yay!
There was golf for the boys Friday morning while Stacy and I shopped, one of my favorite activities! The kids started getting in that afternoon and we ordered pizza and 10 of us hung out at Stacy & Tim's house. They are still trying to figure out what hit 'em! Saturday morning was the graduation, lunch was in a private room of a local restaurant with 16 of our family along with the families of about 12 or so of David's friends. Don and some of the kids went to see Spiderman that afternoon. Kathryn stayed at the hotel with Katelyn and I kept Ava Clair there as well so they could nap. Don's sister and her kids joined us for supper that night and we all went to another restaurant to eat and visit. Church with them on Sunday morning, then out to eat again! I don't need to eat out again for a while! We visited with David briefly afterwards, then stopped at his sister's house before heading home in time for me to watch Survivor. Don hit golf balls until it was too dark to see.
I'm glad I didn't have to go anywhere this morning! I'll post a few pictures and then maybe I can get to some cleaning, unless I opt for a nap instead!

Alas, I have no golf pictures so I'm sure you're as sorry about that as I am! Maybe later I'll show you some of what I bought while shopping. Took pictures while we were eating pizza Friday night and the ones of all the big people are good but they don't quite compare to the ones of Katelyn! (Trent had not gotten in yet with his 2 cuties)
Katelyn loved Stacy's dog Beau but he got put outside for the duration….she would go to the door to see him and she's kissing him through the door here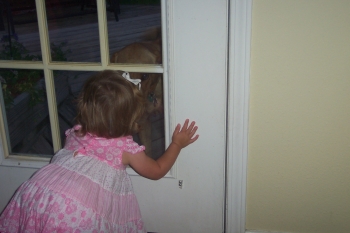 I wish there was sound with this; she was lugging Kathryn's purse across the room and it was so heavy for her! But she was determined to take it to someone who'd get the animal cookies out for her. I think I'd like to have that purse!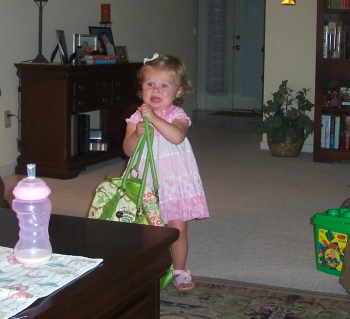 Don, me and Elizabeth with the graduate!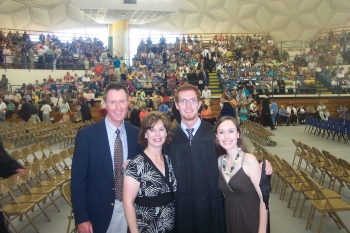 and these are my 4 kids! Aww, I like 'em!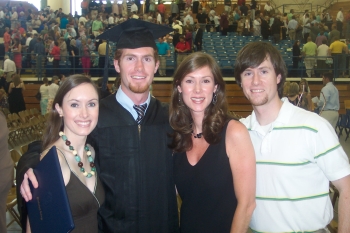 Trent with Ava Clair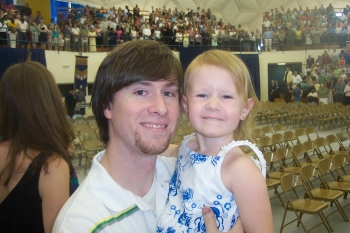 Katelyn enjoying part of her lunch after graduation, just kicking back!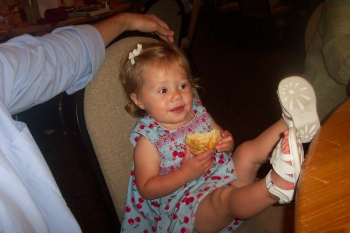 Trent's little boy Grayson (on left) absolutely loves to play with Wilson, our nephew, when the whole crew is together! Wilson is a couple years older and is very sweet to Grayson.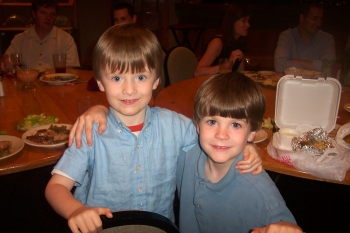 After graduation lunch we got all the kids, and cousins that were there, in a group shot…..I need to give this one to my mother in law because she loves to see her grandkids together! They are a pretty good looking group if I do say so myself.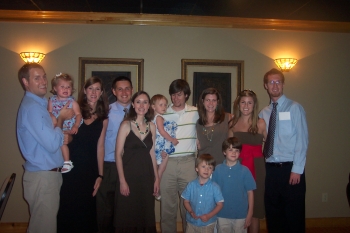 Fun, fun weekend! Now off to get something accomplished, I hope. 😆
13 Responses to "It's Just Another Manic Monday…."
Leave a Reply