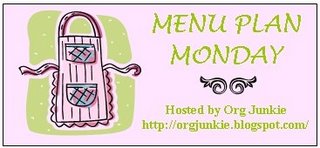 It's Monday and I've had such a long weekend……seeing lots of family, friends, Mother's day and a graduation all rolled into one! Had a great time but I'm so tired I can't see straight, much less even try to plan meals for the week! But I'm kinda, sorta trying and it all might change as the week progresses depending on schedules and such. Hope Mother's day was fun for you all!
I'll try to post pictures later from our weekend.
Monday……baked salmon, green beans
Tuesday …..Shrimp and wild rice casserole, salad
Wednesday..church supper
Thursday…..chicken (maybe in the crockpot), veggies
Friday………quesadillas with the leftover shrimp stuff; I did that the other time I made this and they were the best quesadillas!
weekend…..too far away now for me to think about!
Thanks again Laura for hosting us each week. Be sure to visit her to see the other participants because I'm sure they are much more together this week than me!
11 Responses to "Menu Plan Monday"
Leave a Reply