On Saturday I went to an out of town wedding with my hubby and several couple friends. The bride is a high school friend of one of my daughters and her parents are some of our church friends. Six of us piled in my suburban and the other couple had to leave a bit later than us but we did manage to all meet up around Jackson, MS and caravan the rest of the way. The wedding was in Mobile, Alabama at a museum downtown. Another lady from our church does cakes and she made the wedding cakes and had them in the back of her van! It smelled so good in her car I could have gotten in but I would have done some damage to the cake. 😆 When we stopped for lunch in Hattiesburg, MS she had to keep going so the cake wouldn't sit too long in the car. Once we got there, we found out that a few more people from our area had come down as well. Had just enough time to check in and change clothes before the wedding and reception. We stayed until the bride and groom left, which wasn't that late and then helped get all the cake plates/paraphernalia packed back into the van for the trip home. A few of us piled up into one room late that night and watched a movie on pay per view……A Night at the Museum. Anyone seen that one yet? We slept in just a bit on Sunday, ate at the breakfast buffet in our hotel and headed out. One from our group wanted to find her grandparent's house in Mobile that she visited every summer and it wasn't far from us so we found it easily and took pictures. Drove through the University at Hattiesburg for another couple to find some of the places they lived while going to school and got more pictures! It turned into a "nostalgia" trip for the ones in our car!
We laughed, danced at the reception, acted silly and in general had a fun time. I enjoy being with them all so much. A few pics on the extended page, if you care to be bored today!

This is what the cake looked like before it got put together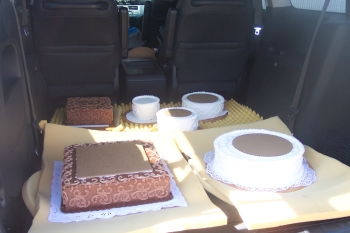 Bride's cake at the reception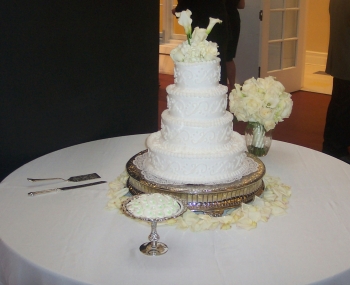 And the groom's………being the TOTAL chocoholic that I am, I thought I would love it so much more but surprisingly I liked the white layer of the bride's cake better! There was a lemon layer that I didn't taste but I know that Reba makes the best white cake/wedding cake around and it's hard to beat the plain white vanilla!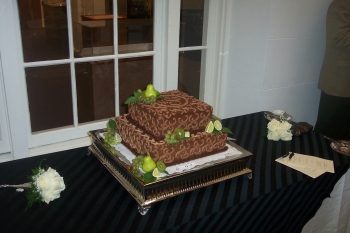 And just gotta have a cake eating shot!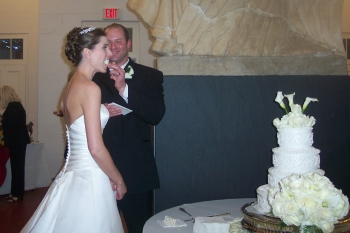 Don & I do clean up pretty good at times too I think!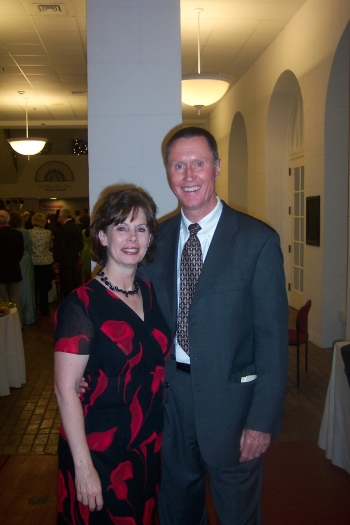 We had to try to be sassy like our girls but not sure we pull it off quite like they can!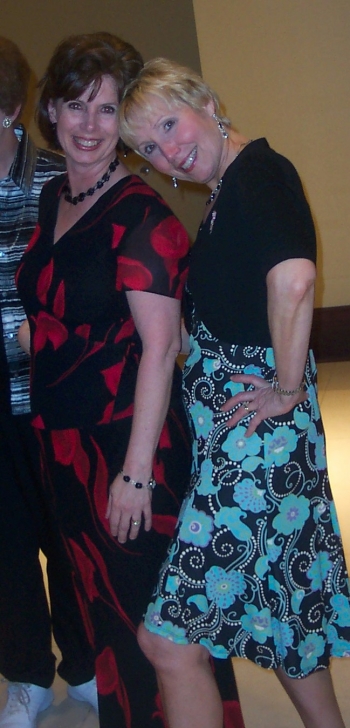 And some of my bestest friends in the whole world, I love them all so much!
Rita, Susan, me and Deb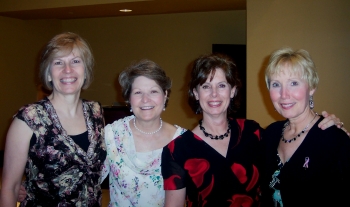 Fun weekend!
8 Responses to "Let 'Em Eat Cake"
Leave a Reply