Yo mama, that's who! Elizabeth came home over the Thanksgiving break; had lots of studying to do, visiting family, sleeping, laundry etc. One of the last things I think she washed was her Easter dress from this past spring. She put it in my machine on the hand wash setting Sunday afternoon and then fell promptly asleep. When she showed it to me Monday morning before she left, it had dark spots on it from where the dark color had bled over to the beige parts of the dress. Argh! I hate when that happens…. I've had it happen to me several times before, even if I did take the clothes out of the washer right away.

She intended to take it back with her but I told her I would try to get the dark spots off if she left it here. I've worked on it the better part of a day and I think it looks much better! I wished I'd taken a pic of it before but here it is hanging outside drying. Just imagine blackish spots all over the beige, yep, that's how it looked.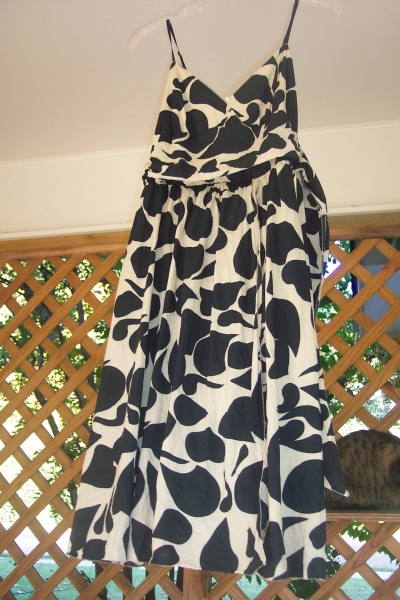 And yes, that's your cat Liz, eating, because contrary to what you think I DO feed him! (Just thought you'd like to see him) It might look like there's still some black on it in a vertical line over on the left of it but that's just sort of where the fold is and how it's hanging because see, I took a close up for you Liz so you could kinda look at it! It looks better doesn't it?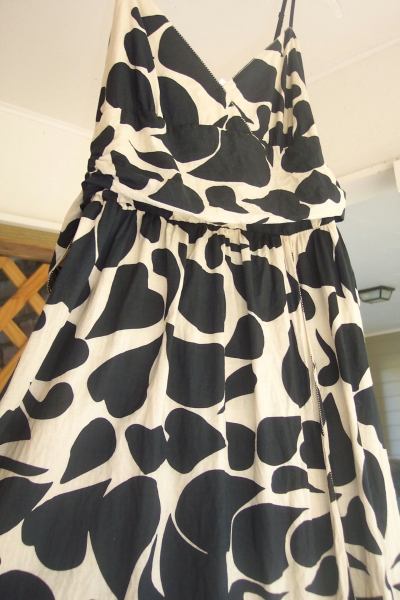 Ooh and look everybody….I found a shot of E wearing this dress last Easter. Doesn't she look all purty!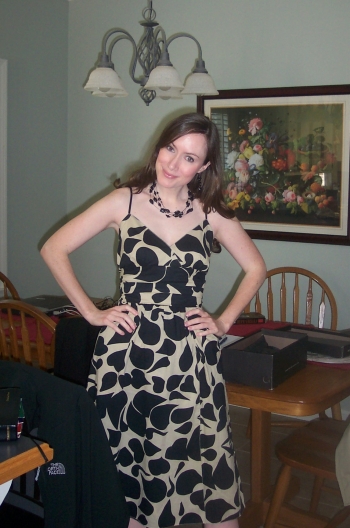 So Liz, you thought you might not ever be able to wear this one again but I think you can now!
Who loves ya baby!
(update: forgot to say…..after soaking and hand washing several times, I finally decided to turn the dress wrong side out and separate it from the lining. pulled the lining one direction and the dress another and then soaked just the dress part for quite a while, rinsed it; then turned it around and put the lining in the sink for a while. I think that helped it the most, plus using some prewash spray in the sink too)
15 Responses to ""Who Loves Ya Baby!""
Leave a Reply