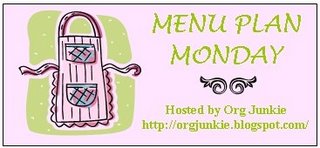 I was gone some last week and didn't plan a menu, and I felt slightly disorganized at meal time! Funny how I've come to depend on this for meals each week. I think it's always good to have a plan even if some meals get pushed aside for other things that come up. So I'm planning a menu this week but hubby might have some business meetings at night and if he doesn't eat here, I probably won't cook just for me! I'm happy with fruit or yogurt or cereal or something. But I'll have a plan for the nights that I do cook. So what are you having this week?
Monday……….Baked salmon, smashed potatoes, veggies
Tuesday………Quick vegetable & rice soup, bread…..found this recipe in the newspaper & it's a new one for me, uses sausage & I'll use turkey sausage
Wednesday…..church supper
Thursday……..Shrimp & wild rice casserole, corn on cob (another new one)
Friday………….Chicken pot pie, salad
weekend……….if any of these meals get put off I might do them this weekend or maybe mini meat loaves if all these get cooked during the week!
Thanks Laura for hosting this each week; hop on over to her site for more menu ideas or hopefully to play along with us.
I'm off to work on pictures to post from our recent ski trip, been putting it off long enough! I hope to have them up Monday morning sometime.
10 Responses to "Menu Plan Monday"
Leave a Reply