Several people asked how I made my spring Easter egg wreath that I posted about and showed a picture of here. I made mine last year but didn't do any step by step instructions! A friend had made one so I sort of copied hers…….Martha is in no trouble of losing her job, I'm not all that crafty and this is easy to do! I went to go see Stacy this week and we got stuff to make one for her door so I took some pictures of that. You might not have wanted this many pics but here's what you'll need to make your own Easter egg wreath:

Eggs, wreath, glue gun, wired ribbon………….we got everything at Walmart.
A bag of plastic easter eggs, any color you like I suppose! I did pastel ones that were in Walmart last year, Stacy wanted brighter colors! We both used a bag of 48 eggs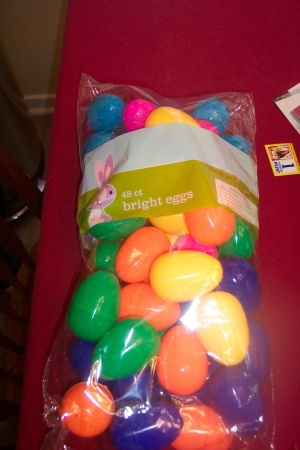 And a wreath, we both used a grapevine wreath and here's the ribbon we got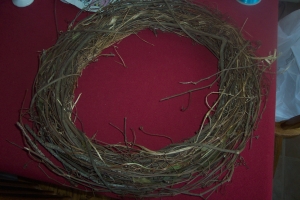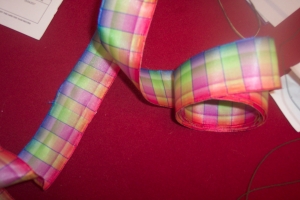 Then just get out your glue gun and start attaching them to the wreath! Any random way will do I think! Be generous with the glue and you might have to stop once in a while and press on them to make sure they are sticking to the form…..in some places you might have to glue the sides of the eggs together to help hold them in place.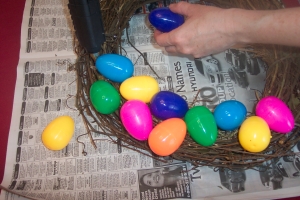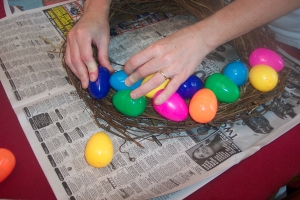 Almost done….and we went all the way around with the eggs, didn't leave a blank spot for the bow but I think you could leave a spot open if it's easier for you that way. Then make a bow with your ribbon, the wired stuff is much easier to work with. Stacy was all fancy and had floral wire that I used to secure the loops together and then attach it to the wreath…..I think I used bread ties on mine, because I'm a professional you know 😉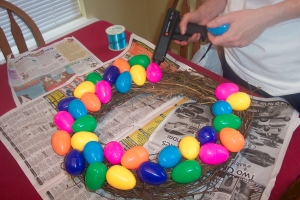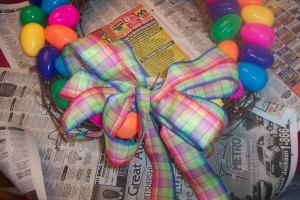 And, ta da, a finished wreath for her door!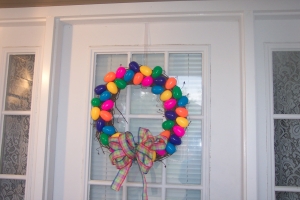 here.
Let me know if you make one so I can come see how purty yours is! (Ski pics hopefully coming tomorrow)
12 Responses to "The Incredible Edible Plastic Egg"
Leave a Reply